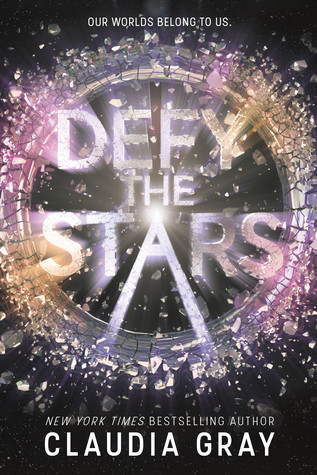 Defy the Stars
Published by Little, Brown Books for Young Readers on April 4th, 2017
Genre: Young Adult Science Fiction
Pages: 512
Format: e-Galley
Rating:
★
★
★
Noemi Vidal is a teen soldier from the planet Genesis, once a colony of Earth that's now at war for its independence. The humans of Genesis have fought Earth's robotic "mech" armies for decades with no end in sight.
After a surprise attack, Noemi finds herself stranded in space on an abandoned ship where she meets Abel, the most sophisticated mech prototype ever made. One who should be her enemy. But Abel's programming forces him to obey Noemi as his commander, which means he has to help her save Genesis--even though her plan to win the war will kill him.
Together they embark on a daring voyage through the galaxy. Before long, Noemi begins to realize Abel may be more than a machine, and, for his part, Abel's devotion to Noemi is no longer just a matter of programming.
My Thoughts
NetGalley Review
That cover! Beautiful!
I was not entirely a fan of Gray's Firebird series, so going into this book was a little frightening. But nevertheless, I tried anyway.
And to be quite honest, I'm glad that I did. It wasn't what I was expecting at all, but when are books ever exactly how you want them to be.
I really enjoyed the space odyssey. However, to say that I was disappointed is an understatement. I was expecting better clarification. I understand including definitions may disconnect from the story or just aren't relevant because the characters already know what exactly what it is and what it does.
The writing was just as I remembered it to be. Tweeny. Yes, this book is for young adults, but most teens have a stronger vocabulary than this. Nevertheless, I was determined not to let that be my downfall.
The characters were all right. Abel was the most promising by far considering how much he had changed from the beginning. It was an unusual romance, which surprisingly, I found myself interested in. But the cliches did deter my enthusiasm slightly.
Overall, I wasn't blown away by this book. I felt a slight breeze and that was it.