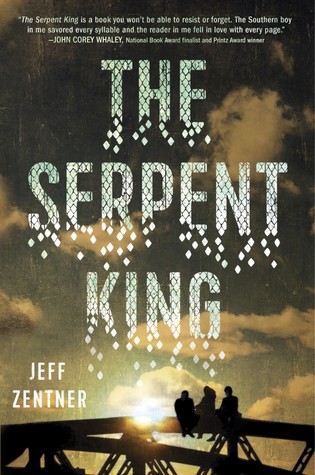 The Serpent King
Published by Crown Books for Young Readers on March 8th, 2016
Genre: Young Adult Contemporary
Pages: 384
Format: Hardback
Rating:
★
★
Dill has had to wrestle with vipers his whole life at home, as the only son of a Pentecostal minister who urges him to handle poisonous rattlesnakes, and at school, where he faces down bullies who target him for his father's extreme faith and very public fall from grace.
The only antidote to all this venom is his friendship with fellow outcasts Travis and Lydia. But as they are starting their senior year, Dill feels the coils of his future tightening around him. Dill's only escapes are his music and his secret feelings for Lydia neither of which he is brave enough to share. Graduation feels more like an ending to Dill than a beginning. But even before then, he must cope with another ending one that will rock his life to the core.
My Thoughts
I'd heard many good things about this book. So I decided to pick it up with a blind eye. I now regret not reading the synopsis before purchasing it. From everything that I had heard, I couldn't believe that it was said about this book after I began reading it. It is completely different from my usual science fiction and adventure entertainment.
The first problem I had was with the characters, mainly Lydia. When she is first introduced and speaking with Dill, you can tell she isn't afraid to express her opinions and never misses the opportunity to take a selfie. But when her POV popped up in the next chapter, I got a completely different vibe. Before, she sounded preppy and snobby. Her character was no different from the girls I have to put up with in school. In her chapter, Lydia didn't really seem to have a personality. She suddenly became dull.
Since the book was young adult contemporary, that should mean the situations are supposed to be relatable to most teens. Unfortunately, that wasn't the case. I couldn't connect with any of the characters. Their problems were something that sparked my interest. Plus, the writing style made it difficult to feel sympathy for any of the characters.
I think I'll stick to my science fiction and fantasy novels from now on.