Here are a few books that I am most looking forward to reading that are being released this week!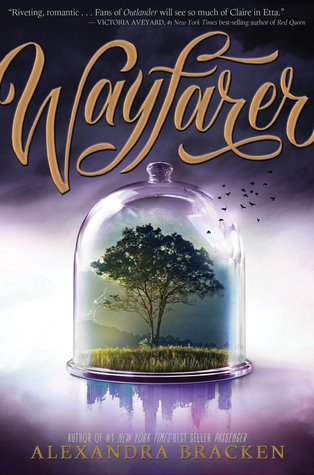 "

All Etta Spencer wanted was to make her violin debut when she was thrust into a treacherous world where the struggle for power could alter history. After losing the one thing that would have allowed her to protect the Timeline, and the one person worth fighting for, Etta awakens alone in an unknown place and time, exposed to the threat of the two groups who would rather see her dead than succeed. When help arrives, it comes from the last person Etta ever expected—Julian Ironwood, the Grand Master's heir who has long been presumed dead, and whose dangerous alliance with a man from Etta's past could put them both at risk.
Meanwhile, Nicholas and Sophia are racing through time in order to locate Etta and the missing astrolabe with Ironwood travelers hot on their trail. They cross paths with a mercenary-for-hire, a cheeky girl named Li Min who quickly develops a flirtation with Sophia. But as the three of them attempt to evade their pursuers, Nicholas soon realizes that one of his companions may have ulterior motives.
As Etta and Nicholas fight to make their way back to one another, from Imperial Russia to the Vatican catacombs, time is rapidly shifting and changing into something unrecognizable… and might just run out on both of them.

"
"

For her sixteenth birthday, Vaela Sun receives the most coveted gift in all the Spire—a trip to the Continent. It seems an unlikely destination for a holiday: a cold, desolate land where two "uncivilized" nations remain perpetually at war. Most citizens tour the Continent to see the spectacle and violence of battle—a thing long vanished in the Spire. For Vaela—a smart and talented apprentice cartographer—it is an opportunity to improve upon the maps she's drawn of this vast, frozen land.
But an idyllic aerial exploration is not to be had: the realities of war are made clear in a bloody battle seen from the heli-plane during the tour, leaving Vaela forever changed. And when a tragic accident leaves her stranded on the Continent, she has no illusions about the true nature of the danger she faces. Starving, alone, and lost in the middle of a war zone, Vaela must try to find a way home—but first, she must survive.

"
"

Norah has agoraphobia and OCD. When groceries are left on the porch, she can't step out to get them. Struggling to snag the bags with a stick, she meets Luke. He's sweet and funny, and he just caught her fishing for groceries. Because of course he did.
Norah can't leave the house, but can she let someone in? As their friendship grows deeper, Norah realizes Luke deserves a normal girl. One who can lie on the front lawn and look up at the stars. One who isn't so screwed up.

"
"

Amy Lennox doesn't know quite what to expect when she and her mother pick up and leave Germany for Scotland, heading to her mother's childhood home of Lennox House on the island of Stormsay.
Amy's grandmother, Lady Mairead, insists that Amy must read while she resides at Lennox House—but not in the usual way. It turns out that Amy is a book jumper, able to leap into a story and interact with the world inside. As thrilling as Amy's new power is, it also brings danger: someone is stealing from the books she visits, and that person may be after her life. Teaming up with fellow book jumper Will, Amy vows to get to the bottom of the thefts—at whatever cost.

"
What books are you most looking forward to reading this week?