Hosted by the lovelies over at
The Broke and the Bookish
! I love their amazing ideas and seeing how many people participate each week!
Today's Top Ten is:
"Jessa has spent her life dreaming of other worlds and writing down stories more interesting than her own, until the day her favorite character, Finn, suddenly shows up and invites her out for coffee. After the requisite nervous breakdown, Jessa learns that she and Finn are Travelers, born with the ability to slide through reflections and dreams into alternate realities. But it's not all steampunk pirates and fantasy lifestyles…Jessa is dying over and over again, in every reality, and Finn is determined that this time, he's going to stop it… this Jessa is going to live."
"Being a bastard blows. Tilla would know. Her father, Lord Kent of the Western Province, loved her as a child, but cast her aside as soon as he had trueborn children.
At sixteen, Tilla spends her days exploring long-forgotten tunnels beneath the castle with her stablehand half brother, Jax, and her nights drinking with the servants, passing out on Jax's floor while her castle bedroom collects dust. Tilla secretly longs to sit by her father's side, resplendent in a sparkling gown, enjoying feasts with the rest of the family. Instead, she sits with the other bastards, like Miles of House Hampstedt, an awkward scholar who's been in love with Tilla since they were children.
Then, at a feast honoring the visiting princess Lyriana, the royal shocks everyone by choosing to sit at the Bastards' Table. Before she knows it, Tilla is leading the sheltered princess on a late-night escapade. Along with Jax, Miles, and fellow bastard Zell, a Zitochi warrior from the north, they stumble upon a crime they were never meant to witness.
Rebellion is brewing in the west, and a brutal coup leaves Lyriana's uncle, the Royal Archmagus, dead—with Lyriana next on the list. The group flees for their lives, relentlessly pursued by murderous mercenaries; their own parents have put a price on their heads to prevent the king and his powerful Royal Mages from discovering their treachery.
The bastards band together, realizing they alone have the power to prevent a civil war that will tear their kingdom apart—if they can warn the king in time. And if they can survive the journey . . ."
"Having superpowers is overrated. It requires Tori to go to way more team practices than can comfortably fit into a normal teenager's schedule. Being a dragon slayer has other drawbacks too—like fighting dragons and keeping one step ahead of power-hungry dragon lords, all without blowing her cover.
Tori Hampton is a presidential candidate's daughter, which means she not only has a public reputation to maintain, she also has a humorless bodyguard to ditch every time she needs to go on a mission.
And Dr. B has plenty of missions for the Slayers. When he discovers that someone is selling dragon scales on the black market, he's convinced the seller can give him the dragons' location. A surprise strike could turn the tide in the Slayers favor, but when they track down the seller, they find more than they've bargained for.
Suddenly, strategies need to change, alliances shift, and Tori finds herself caught in the precarious middle.
Jesse, the captain of the other Slayers team, is everything she wants, but then there's Dirk, the dragon lord's son—who also happens to be her ex-boyfriend. He's determined to convince her that she should love dragons, and love him too. The fact that he and his father plan to overthrow the government? Details not worth arguing about.
Tori believes she can turn Dirk around and convince him to rejoin the Slayers, but he's just as convinced that she should leave the Slayers and become a dragon lord.
Dirk can teach Tori how to control dragons, and it's a skill she desperately wants. It could make all of the difference in a battle. It could save her friends' lives. When Dirk offers to let her ride a dragon, she knows that meeting him is like playing with fire."
"Science fiction icon Connie Willis brilliantly mixes a speculative plot, the wit of Nora Ephron, and the comedic flair of P. G. Wodehouse in Crosstalk a genre-bending novel that pushes social media, smartphone technology, and twenty-four-hour availability to hilarious and chilling extremes as one young woman abruptly finds herself with way more connectivity than she ever desired.
In the not-too-distant future, a simple outpatient procedure to increase empathy between romantic partners has become all the rage. And Briddey Flannigan is delighted when her boyfriend, Trent, suggests undergoing the operation prior to a marriage proposal to enjoy better emotional connection and a perfect relationship with complete communication and understanding. But things don't quite work out as planned, and Briddey finds herself connected to someone else entirely in a way far beyond what she signed up for.
It is almost more than she can handle especially when the stress of managing her all-too-eager-to-communicate-at-all-times family is already burdening her brain. But that's only the beginning. As things go from bad to worse, she begins to see the dark side of too much information, and to realize that love and communication are far more complicated than she ever imagined."
"It took a single moment for her life to change. And she'll do anything to change it back.
Ren Crown is a high school senior searching for her identity when a devastating attack on her twin brother thrusts her into a hidden world of magic. Fighting forces that she is woefully unprepared for, Ren illegally enrolls in a prestigious secret university where magic is plentiful and danger is absolute.
Determined to set her family back to rights, she is blocked at every turn and faced with a new reality of boundless fascination and possibility. Animated creations, enchanted gadgets, and marvelous machines vie with the students themselves: mischievous engineers, diabolical tacticians, battle-hardened warriors, and terrifying roommates.
But even amidst an eclectic student body, there is something off about Ren's magic...and the wrong people have started to notice.
Caught in a tightening web, Ren's values stand trial, as does the fate of the world."
"Empress
Rhee, better known as Crown Princess Rhiannon Ta'an, is the sole surviving heir to a powerful dynasty. She'll stop at nothing to avenge her family and claim her throne.
Fugitive
Aly has risen above his war refugee origins to find fame as the dashing star of a holo-vision show. But when he's falsely accused of killing Rhee, he's forced to prove his innocence to save his reputation – and his life.
Madman
With planets on the brink of war, Rhee and Aly are thrown together to confront a ruthless evil that threatens the fate of the entire galaxy."
"It's dark magic brings him back."
Tori Burns and her family left D.C. for claustrophobic Chaptico, Maryland, after suddenly inheriting a house under mysterious circumstances. That inheritance puts her at odds with the entire town, especially Jesse Slaughter and his family—it's their generations-old land the Burns have "stolen." But none of that seems to matter after Tori witnesses a young man claw his way out of a grave under the gnarled oak in her new backyard.
Nathaniel Bishop may not understand what brought him back, but it's clear to Tori that he hates the Slaughters for what they did to him centuries ago. Wary yet drawn to him by a shared sense of loss, she gives him shelter. But in the wake of his arrival comes a string of troubling events—including the disappearance of Jesse Slaughter's cousin—that seem to point back to Nathaniel.
As Tori digs for the truth—and slowly begins to fall for Nathaniel—she uncovers something much darker in the tangled branches of the Slaughter family tree. In order to break the centuries-old curse that binds Nathaniel there and discover the true nature of her inheritance, Tori must unravel the Slaughter family's oldest and most guarded secrets. But the Slaughters want to keep them buried… at any cost."



"The year is 2059. Nineteen-year-old Paige Mahoney is working in the criminal underworld of Scion London, based at Seven Dials, employed by a man named Jaxon Hall. Her job: to scout for information by breaking into people's minds. For Paige is a dreamwalker, a clairvoyant and, in the world of Scion, she commits treason simply by breathing.




It is raining the day her life changes for ever. Attacked, drugged and kidnapped, Paige is transported to Oxford – a city kept secret for two hundred years, controlled by a powerful, otherworldly race. Paige is assigned to Warden, a Rephaite with mysterious motives. He is her master. Her trainer. Her natural enemy. But if Paige wants to regain her freedom she must allow herself to be nurtured in this prison where she is meant to die.




The Bone Season introduces a compelling heroine and also introduces an extraordinary young writer, with huge ambition and a teeming imagination. Samantha Shannon has created a bold new reality in this riveting debut."
"Amy Lennox doesn't know quite what to expect when she and her mother pick up and leave Germany for Scotland, heading to her mother's childhood home of Lennox House on the island of Stormsay.
Amy's grandmother, Lady Mairead, insists that Amy must read while she resides at Lennox House—but not in the usual way. It turns out that Amy is a book jumper, able to leap into a story and interact with the world inside. As thrilling as Amy's new power is, it also brings danger: someone is stealing from the books she visits, and that person may be after her life. Teaming up with fellow book jumper Will, Amy vows to get to the bottom of the thefts—at whatever cost."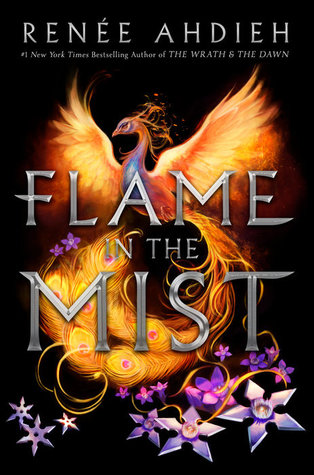 "The daughter of a prominent samurai, Mariko has long known her place—she may be an accomplished alchemist, whose cunning rivals that of her brother Kenshin, but because she is not a boy, her future has always been out of her hands. At just seventeen years old, Mariko is promised to Minamoto Raiden, the son of the emperor's favorite consort—a political marriage that will elevate her family's standing. But en route to the imperial city of Inako, Mariko narrowly escapes a bloody ambush by a dangerous gang of bandits known as the Black Clan, who she learns has been hired to kill her before she reaches the palace.
Dressed as a peasant boy, Mariko sets out to infiltrate the ranks of the Black Clan, determined to track down the person responsible for the target on her back. But she's quickly captured and taken to the Black Clan's secret hideout, where she meets their leader, the rebel ronin Takeda Ranmaru, and his second-in-command, his best friend Okami. Still believing her to be a boy, Ranmaru and Okami eventually warm to Mariko, impressed by her intellect and ingenuity. As Mariko gets closer to the Black Clan, she uncovers a dark history of secrets, of betrayal and murder, which will force her to question everything she's ever known."
What books made your Top Ten

?