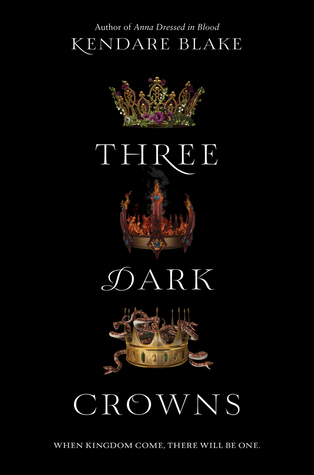 Three Dark Crowns
Published by HarperTeen on September 20th, 2016
Genre: Young Adult Fantasy
Pages: 416
Format: ARC
Rating:
★
★
Every generation on the island of Fennbirn, a set of triplets is born: three queens, all equal heirs to the crown and each possessor of a coveted magic. Mirabella is a fierce elemental, able to spark hungry flames or vicious storms at the snap of her fingers. Katharine is a poisoner, one who can ingest the deadliest poisons without so much as a stomachache. Arsinoe, a naturalist, is said to have the ability to bloom the reddest rose and control the fiercest of lions. But becoming the Queen Crowned isn't solely a matter of royal birth. Each sister has to fight for it. And it's not just a game of win or lose…it's life or death. The night the sisters turn sixteen, the battle begins. The last queen standing gets the crown. If only it was that simple. Katharine is unable to tolerate the weakest poison, and Arsinoe, no matter how hard she tries, can't make even a weed grow. The two queens have been shamefully faking their powers, taking care to keep each other, the island, and their powerful sister Mirabella none the wiser. But with alliances being formed, betrayals taking shape, and ruthless revenge haunting the queens' every move, one thing is certain: the last queen standing might not be the strongest…but she may be the darkest.
My Thoughts
2.5 Stars
I read Blake's Antigoddess, but let's just say I was not a fan. But you can't completely judge an author just by reading one of their books. So I decided to give Three Dark Crowns a shot. This time around, I was left feeling pleased and a little desperate for more.
However, Three Dark Crowns was a love and hate relationship with me at the beginning. For one, your are immediately bombarded with names. And theses names aren't all common but they also aren't extremely rare. That being said, you'd think it would be easy to remember them or pair them to each princess. Each princess had at least two guardians/caretakers that oversee their training in their abilities. Then each of their friends was added to the story, giving you each at least two more names to remember. And then, there were the names of past queens, aunts, uncles, etc. Overall, it was tedious to remember them all. Eventually, I just went with it and the names finally paired with one another and stuck.
Another problem that I had was the middle of the book. It wasn't even the middle, it's more like the first three hundred pages. Joshua's and Jules' romance. To me, I feel like it was only added in to pin the princesses against one another before leading into the next book. There was more romance than there was an actual story. If you want to count Arsinoe and Billy, then each of the characters had someone tugging on their heartstrings. I wasn't a huge fan of Jules. She deliberately shirked on her duties and still somehow managed to make Arsinoe feel guilty and sorry for her when things didn't go her way. Arsinoe was always there for her, but where was Jules when Arsinoe needed her? Out flirting with Joshua, that's where.
The book started off so strong in Katharine's point of view. But as you read further, you'll find the chapters with Katharine to be lacking. A lot. It grew annoying. Katharine is the only one really training and taking the Quickening seriously, but you don't really know for sure with her absence less than halfway through. The other two are more or less in denial, shoving their impending doom aside until the day comes. Arsinoe is too busy playing matchmaker with Joshua and Jules to actually figure out what her true powers are. I don't even know what Mirabella is doing besides skulking over her nightmares, romanizing about Joshua, and getting her friends in trouble.
Honestly, the majority of the story was about undying love between Jules and Joshua. Not much really happens in this book until the last one hundred pages. A scare in the beginning, a small one in the middle, besides that not much happened in this book.
The characters faintly touched on this subject but it was vague. What exactly is this mystical place called the mainland? And why is it so different from Fennbirn? I understand only a few families know of the island its secrets. But wouldn't you think a few more mainlanders would wash up on shore from time to time? Or is it the mysterious Goddess that prevents outsiders from entering their current?
The 'plot twist' at the end was easily foreseen within the first one hundred pages. With all of that dull fluff, you tend to let your mind wander. So I had a pretty good idea where the story was heading less than half way through.
Overall, I only recommend reading this if you need help going to sleep. However, I do prefer this book over Blake's Antigoddess.