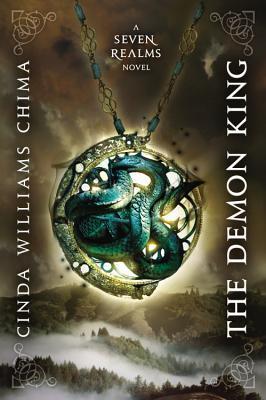 The Demon King (Seven Realms #1)
Published by Hyperion Books on October 6th, 2009
Genre: Young Adult Fantasy
Pages: 506
Format: Hardback
Rating:
★
★
★
★
Times are hard in the mountain city of Fellsmarch. Reformed thief Han Alister will do almost anything to eke out a living for his family. The only thing of value he has is something he can't sell—the thick silver cuffs he's worn since birth. They're clearly magicked—as he grows, they grow, and he's never been able to get them off. One day, Han and his clan friend, Dancer, confront three young wizards setting fire to the sacred mountain of Hanalea. Han takes an amulet from Micah Bayar, son of the High Wizard, to keep him from using it against them. Soon Han learns that the amulet has an evil history—it once belonged to the Demon King, the wizard who nearly destroyed the world a millennium ago. With a magical piece that powerful at stake, Han knows that the Bayars will stop at nothing to get it back. Meanwhile, Raisa ana'Marianna, princess heir of the Fells, has her own battles to fight. She's just returned to court after three years of freedom in the mountains—riding, hunting, and working the famous clan markets. Raisa wants to be more than an ornament in a glittering cage. She aspires to be like Hanalea—the legendary warrior queen who killed the Demon King and saved the world. But her mother has other plans for her... The Seven Realms tremble when the lives of Hans and Raisa collide, fanning the flames of the smoldering war between clans and wizards.
My Thoughts
The worldbuilding in this series is phenomenal! Once you get through the first couple hundred pages, you know exactly what I'm talking about. It is a bit of a slow read at first. But trust me, it does eventually pick up. This book is every reason why I adore the medieval/renaissance time period so much. There's magic, princesses and princes, and kingdoms on the brink of war. What's not to like? Besides the slow start, there wasn't anything that deterred me from wanting to read the second book. I am very curious to dive into The Exiled Queen and see what kind of situations the characters will find themselves in. The best thing about this book is the vast difference between Han and Raisa. They are from completely opposite worlds and one chance meeting could seal their fate. When I first read this, I was incredibly disappointed that the two main characters didn't nearly enough face time together as I had originally thought. After re-reading it, the feel is still the same, but I have a better appreciation for it the second time around. Onward to The Exiled Queen!
Re-Read Challenge
When I First Read: July 2014
What I Remember: Han(Cuffs), Raisa, Amon, Fire Dancer, Micah, Bird. Cursed amulet. Unbreakable cuffs. Raisa's scheming mother and Micah's persuasive father. Kidnapping. Secret rooftop garden rendezvous. Oden's Ford. Raggers and Southies. Demonai Warriors. Forced marriage. Han's lineage.
Why I Wanted to Re-Read: The next 3 books are taking up room on my desk.
How I Felt After Re-Reading: Refreshed.
Would I Re-Read Again? Maybe.