Here are a few books that I am most looking forward to buying that are being released this week! There's quite a few this week.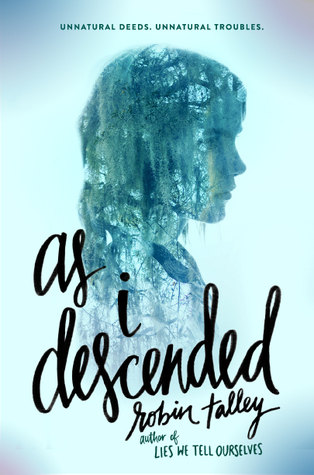 "

Maria Lyon and Lily Boiten are their school's ultimate power couple—even if no one knows it but them.
Only one thing stands between them and their perfect future: campus superstar Delilah Dufrey.
Golden child Delilah is a legend at the exclusive Acheron Academy, and the presumptive winner of the distinguished Cawdor Kingsley Prize. She runs the school, and if she chose, she could blow up Maria and Lily's whole world with a pointed look, or a carefully placed word.
But what Delilah doesn't know is that Lily and Maria are willing to do anything—absolutely anything—to make their dreams come true. And the first step is unseating Delilah for the Kingsley Prize. The full scholarship, awarded to Maria, will lock in her attendance at Stanford―and four more years in a shared dorm room with Lily.
Maria and Lily will stop at nothing to ensure their victory—including harnessing the dark power long rumored to be present on the former plantation that houses their school.
But when feuds turn to fatalities, and madness begins to blur the distinction between what's real and what is imagined, the girls must decide where they draw the line.
From acclaimed author Robin Talley comes a Shakespeare-inspired story of revenge and redemption, where fair is foul, and foul is fair.

"
"

John Green meets Rainbow Rowell in this irresistible story of first love, broken hearts, and the golden seams that put them back together again. Henry Page has never been in love. He fancies himself a hopeless romantic, but the slo-mo, heart palpitating, can't-eat-can't-sleep kind of love that he's been hoping for just hasn't been in the cards for him—at least not yet. Instead, he's been happy to focus on his grades, on getting into a semi-decent college and finally becoming editor of his school newspaper. Then Grace Town walks into his first period class on the third Tuesday of senior year and he knows everything's about to change. Grace isn't who Henry pictured as his dream girl—she walks with a cane, wears oversized boys' clothes, and rarely seems to shower. But when Grace and Henry are both chosen to edit the school paper, he quickly finds himself falling for her. It's obvious there's something broken about Grace, but it seems to make her even more beautiful to Henry, and he wants nothing more than to help her put the pieces back together again. And yet, this isn't your average story of boy meets girl. Krystal Sutherland's brilliant debut is equal parts wit and heartbreak, a potent reminder of the bittersweet bliss that is first love.

"
"

An ambitious debut novel by an original young writer, We Eat Our Own blurs the lines between life and art with the story of a film director's unthinkable experiment in the Amazon.
When a nameless, struggling actor in 1970s New York gets the call that an enigmatic director wants him for an art film set in the Amazon, he doesn't hesitate: he flies to South America, no questions asked. He quickly realizes he's made a mistake. He's replacing another actor who quit after seeing the script—a script the director now claims doesn't exist. The movie is over budget. The production team seems headed for a breakdown. The air is so wet that the celluloid film disintegrates.
But what the actor doesn't realize is that the greatest threat might be the town itself, and the mysterious shadow economy that powers this remote jungle outpost. Entrepreneurial Americans, international drug traffickers, and M-19 guerillas are all fighting for South America's future—and the groups aren't as distinct as you might think. The actor thought this would be a role that would change his life. Now he's worried if he'll survive it.
Inspired by a true story from the annals of 1970s Italian horror film, and told in dazzlingly precise prose, We Eat Our Own is a resounding literary debut, a thrilling journey behind the scenes of a shocking film and a thoughtful commentary on violence and its repercussions.

"



"

Aspiring reporter Piper Baird decides to write a scathing exposé on the overprivileged students at an elite Washington, DC, school, only for her life to change when she begins to fall for the story's main subject, in this new realistic contemporary romance from Brodi Ashton, the author of the Everneath trilogy.




Raucous parties, privileged attitudes, underage drinking, and diplomatic immunity...it's all part of student life on Embassy Row.




Piper Baird has always dreamed of becoming a journalist. So when she scores a scholarship to exclusive Chiswick Academy in Washington, DC, she knows it's her big opportunity. Chiswick offers the country's most competitive prize for teen journalists—the Bennington scholarship—and winning will ensure her acceptance to one of the best schools in the country.




Piper isn't at Chiswick for two days before she witnesses the intense competition in the journalism program—and the extreme privilege of the young and wealthy elite who attend her school. And Piper knows access to these untouchable students just might give her the edge she'll need to blow the lid off life at the school in a scathing and unforgettable exposé worthy of the Bennington.




The key to the whole story lies with Rafael Amador, the son of the Spanish ambassador—and the boy at the center of the most explosive secrets and scandals on Embassy Row. Rafael is big trouble—and when he drops into her bedroom window one night, asking for help, it's Piper's chance to get the full scoop. But as they spend time together, Piper discovers that despite his dark streak, Rafael is smart, kind, funny, and gorgeous—and she might have real feelings for him. How can she break the story of a lifetime if it could destroy the boy she just might love?"
What books are you most looking forward to reading this week?