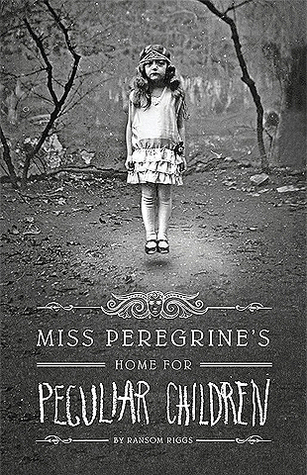 Miss Peregrine's Home for Peculiar Children (Miss Peregrine's Peculiar Children #1)
Published by Quirk Books on June 7th, 2011
Genre: Young Adult Paranormal
Pages: 352
Format: Hardback
Rating:
★★
★
★
★
A mysterious island. An abandoned orphanage. A strange collection of curious photographs. A horrific family tragedy sets sixteen-year-old Jacob journeying to a remote island off the coast of Wales, where he discovers the crumbling ruins of Miss Peregrine's Home for Peculiar Children. As Jacob explores its abandoned bedrooms and hallways, it becomes clear that the children were more than just peculiar. They may have been dangerous. They may have been quarantined on a deserted island for good reason. And somehow—impossible though it seems—they may still be alive. A spine-tingling fantasy illustrated with haunting vintage photography, Miss Peregrine's Home for Peculiar Children will delight adults, teens, and anyone who relishes an adventure in the shadows.
My Thoughts
I think my friends would all agree that this book definitely sums me up. I may appear sweet and innocent, but there's a dark layer underneath. I think what made this book extraordinary special was the fact that I began reading it on Loop Day.
This book did not pan out the way that I had initially thought when I first read the description. If anything, it blew apart every assumption I had. This book far exceeding my expectations, completely blew them out of the water. It had been quite some time since I last read a creepy, mystic tale. I thought it was quite clever to integrate old photographs into the story. Or maybe the story was in the photographs. Oh, the strange treasures people find. One man's trash is another man's bestselling series.
Starting out, I was curious, even a little confused, as to how Riggs planned on uniting these two groups together. I found myself questioning Riggs numerous times throughout his novel. Not because the answers weren't clear/clarified later in the work, but because my mind tends to think logically in fantasies. Disregarding all of my useless questions, I thought the plot was truly one of kind and far from most young adult novels. I loved the horror and late night spooks throughout Jacob's journey.
Speaking of Jacob, I found his character to be quite enjoyable and relatable. Not in the ability-to-see-hollows-aspect, but in the genuine-emotional-character-aspect. And that doesn't necessarily direct towards Jacob but towards the other peculiars aswell. I specifically liked the fact that each child brought something different to the table. No one child had similar personalities or abilities. Regarding their abilities, I praise Riggs for choosing lesser known powers. They definitely were peculiar.
The. Plot. Twists. They were brilliant! I had my suspicious from the beginning but they were later set aside when more chilling situations occurred.
To bring this review to an end, I'd like to applaud Riggs for his fantastically eerie writing skills. Obviously, this story wouldn't be as thrilling or suspenseful without him.
I am looking forward to reading Hollow City in the coming days.