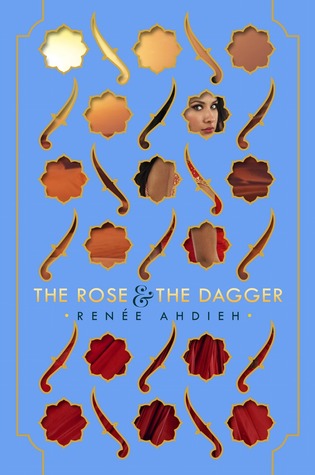 The Rose & The Dagger (The Wrath and The Dawn #2)
Published by G.P. Putnam's Sons Books for Young Readers on April 26th, 2016
Genre: Young Adult Fantasy
Pages: 416
Format: Hardback
Rating:
★
★
★
★
★
The darker the sky, the brighter the stars.
In a land on the brink of war, Shahrzad is forced from the arms of her beloved husband, the Caliph of Khorasan. She once thought Khalid a monster—a merciless killer of wives, responsible for immeasurable heartache and pain—but as she unraveled his secrets, she found instead an extraordinary man and a love she could not deny. Still, a curse threatens to keep Shazi and Khalid apart forever.
Now she's reunited with her family, who have found refuge in the desert, where a deadly force is gathering against Khalid—a force set on destroying his empire and commanded by Shazi's spurned childhood sweetheart. Trapped between loyalties to those she loves, the only thing Shazi can do is act. Using the burgeoning magic within her as a guide, she strikes out on her own to end both this terrible curse and the brewing war once and for all. But to do it, she must evade enemies of her own to stay alive.
The saga that began with The Wrath and the Dawn takes its final turn as Shahrzad risks everything to find her way back to her one true love again.
My Thoughts
I love duologies! Much like standalones, they're short and sweet and don't cause me much stress over theorizing the rest of the series. But what am I to do with my life now after that thrilling conclusion? The Rose & The Dagger far excited my expectations. There was action, thrills, and heartbreak. Although I could've done without the heartbreak, the story is beautiful. Ahdieh's writing is gorgeous! Defiantly writer goals. She effortlessly captivates your attention as she spins a magical tale of trust, family, and love. The story comes alive, especially if you have your favorite instrumental soundtrack playing in the background. I highly recommend doing so, it amplifies the emotions as well as your own. Shazi's and Khalid's relationship=pure perfection. The story did begin a little slow, thus prolonging the time the two were apart from each other. You could not have asked for a more perfect reunion. It is evident how much the two trust, care, and love one another. I was very curious as to where the second book would lead, especially since only a select few people actually trusted Khalid. I liked Shazi's slow and steady technic of convincing her family and friends that her husband was not the monster people make him out to be. And then there's Irsa and Rahim! I almost love them more than Shazi and Khalid. I wish they realized each other's feeling sooner than they had. Everything began to spiral out of control just when everything was going great for the two. Well, as good as good can be. I absolutely loved the addition of Artan! I would've loved if Shazi had learned how to control her powers sooner or at least gotten the chance to set Reza straight. It is bittersweet. The series is over, but their story is just beginning. This series defiantly deserves a spot on everyone shelves. I highly recommend at least trying this series out. There's action, romance, and diversity!