Here are a few books that I am most looking forward to buying that are being released this week! There's quite a few this week.
"

Who will be left after lights out?
At Cate's isolated boarding school, Killer is more than a game- it's an elite secret society. Members must avoid being "Killed" during a series of thrilling pranks, and only the Game Master knows who the "Killer" is. When Cate's finally invited to join the Assassins' Guild, she know it's her ticket to finally feeling like she belongs.
But when the game becomes all too real, the school threatens to shut it down. Cate will do anything to keep playing and save the Guild. But can she find the real assassin before she's the next target?
Originally published in the United Kingdom by Chicken House in 2015 under title: Killer game.

"
"

Paraffin, Vermont, is known the world over as home to the Grosholtz Candle Factory. But behind the sunny retail space bursting with overwhelming scents and homemade fudge, seventeen-year-old Poppy Palladino discovers something dark and unsettling: a back room filled with dozens of startlingly life-like wax sculptures, crafted by one very strange old lady. Poppy hightails it home, only to be shocked when one of the figures—a teenage boy who doesn't seem to know what he is—jumps naked and screaming out of the trunk of her car. She tries to return him to the candle factory, but before she can, a fire destroys the mysterious workshop—and the old woman is nowhere to be seen.
With the help of the wax boy, who answers to the name Dud, Poppy resolves to find out who was behind the fire. But in the course of her investigation, she discovers that things in Paraffin aren't always as they seem, that the Grosholtz Candle Factory isn't as pure as its reputation—and that some of the townspeople she's known her entire life may not be as human as they once were. In fact, they're starting to look a little . . . waxy. Can Poppy and Dud extinguish the evil that's taking hold of their town before it's too late?

"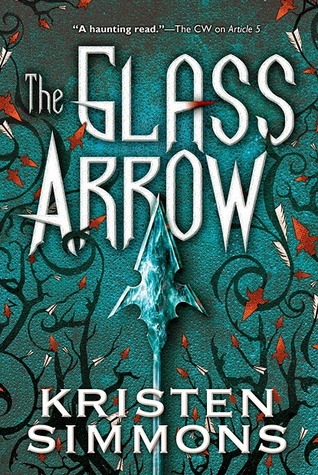 "

The Handmaid's Tale meets Blood Red Road in Glass Arrow, the story of Aya, who lives with a small group of women on the run from the men who hunt them, men who want to auction off breeding rights to the highest bidder.
In a world where females are scarce and are hunted, then bought and sold at market for their breeding rights, 15-year old Aya has learned how to hide. With a ragtag bunch of other women and girls, she has successfully avoided capture and eked out a nomadic but free existence in the mountains. But when Aya's luck runs out and she's caught by a group of businessmen on a hunting expedition, fighting to survive takes on a whole new meaning.

"
What books are you most looking forward to reading this week?