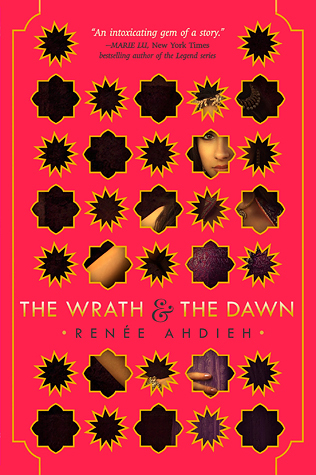 The Wrath & the Dawn (The Wrath and the Dawn #1)
Published by G.P. Putnam's Sons Books for Young Readers on May 12th, 2015
Genre: Young Adult Fantasy
Pages: 388
Format: Hardcover
Rating:
★
★
★
★
★
One Life to One Dawn.
In a land ruled by a murderous boy-king, each dawn brings heartache to a new family. Khalid, the eighteen-year-old Caliph of Khorasan, is a monster. Each night he takes a new bride only to have a silk cord wrapped around her throat come morning. When sixteen-year-old Shahrzad's dearest friend falls victim to Khalid, Shahrzad vows vengeance and volunteers to be his next bride. Shahrzad is determined not only to stay alive, but to end the caliph's reign of terror once and for all.
Night after night, Shahrzad beguiles Khalid, weaving stories that enchant, ensuring her survival, though she knows each dawn could be her last. But something she never expected begins to happen: Khalid is nothing like what she'd imagined him to be. This monster is a boy with a tormented heart. Incredibly, Shahrzad finds herself falling in love. How is this possible? It's an unforgivable betrayal. Still, Shahrzad has come to understand all is not as it seems in this palace of marble and stone. She resolves to uncover whatever secrets lurk and, despite her love, be ready to take Khalid's life as retribution for the many lives he's stolen. Can their love survive this world of stories and secrets?
Inspired by A Thousand and One Nights, The Wrath and the Dawn is a sumptuous and enthralling read from beginning to end.
My Thoughts
Oh. My. Goddess! I'm going to be raving about this book for months!
Okay, take a breath. Let's just get everything out.
I've been meaning to read this book ever since I heard of its release date. The synopsis, the characters, the setting; everything was there to ensure my interests. Plus the rare bonus of diversity! We need more diversity in young adult books! I learned so many new and incredible things while reading this book. It definitely is a great fresh and unique take on an age old classic.
It is a little intimidating when you first go in. Numerous characters are introduced at once as is the world that they reside in. I did like the fact that the book included a glossary in the back. However, I just wish there was a character index as well. You could not ask for a better cast of characters. Genuine. Flawed. Independent. Shahrzad, in her own unique stubborn way, dazzles readers with her quick wit, determination, and weaknesses. There was never a dull moment with Shahrzad around. However, tense and honest, yes, there are quite a few of those. I really admire Renee Ahdieh's character development, not only for Shahrzad but for everyone. The book couldn't be as enjoyable as it had been without them. Speaking of enjoyable, Khalid was certainly a delightful treat. After everything he went through before Shahrzad arrived, I imagined a dark, tortured, brooding soul who would immediately allure Shahrzad with his sulking attitude. Thankfully, Ahdieh turned down the road less traveled and created a fantastic character. I was a little skeptical at first, I feared a love triangle would consume the book. Again, Ahdieh saved us from enduring that agonizing fate. In short, the characters are inspiring and realistic.
Renee Ahdieh's painstaking attention to detail is phenomenal! I especially enjoyed the clothing and decor descriptions. Even her style of writing was very informative. So many new words! I love it! The multiple POV's provided the readers with great insight towards each character.
But with the aged writing, I did find it a little hard to understand what exactly happened. There were many possibilities running through my head, I was hoping by reading further I would be granted a few clues in the dialogue or context. Unfortunately, I was left in the dark. As much as I hate to say it, there were a few things that I disliked about this book. I though some of the scenes were a little too predictable, foreseen, or even convenient. Let's just say the timing could not have been any more perfect.
Honestly, the ending was a little bit of a letdown. After everything that had happened in the last few sections, I was expecting an earth-shattering plot twist. It may have been for some, but not for me.
Overall, I highly recommend this book!