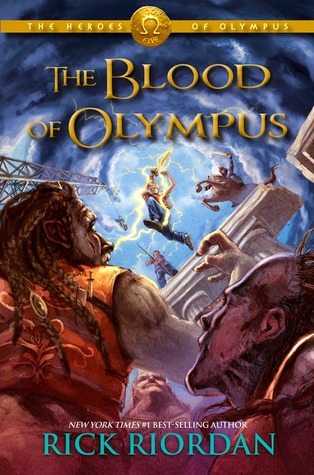 The Blood of Olympus (The Heroes of Olympus, #5) Published by Disney-Hyperion August 2nd, 2016
Genre: Young Adult Fantasy
Pages: 516
Format: Hardback
Rating:
★
★
★
★
★
Though the Greek and Roman crewmembers of the Argo II have made progress in their many quests, they still seem no closer to defeating the earth mother, Gaea. Her giants have risen—all of them—and they're stronger than ever. They must be stopped before the Feast of Spes, when Gaea plans to have two demigods sacrificed in Athens. She needs their blood—the blood of Olympus—in order to wake. The demigods are having more frequent visions of a terrible battle at Camp Half-Blood. The Roman legion from Camp Jupiter, led by Octavian, is almost within striking distance. Though it is tempting to take the Athena Parthenos to Athens to use as a secret weapon, the friends know that the huge statue belongs back on Long Island, where it "might" be able to stop a war between the two camps. The Athena Parthenos will go west; the Argo II will go east. The gods, still suffering from multiple personality disorder, are useless. How can a handful of young demigods hope to persevere against Gaea's army of powerful giants? As dangerous as it is to head to Athens, they have no other option. They have sacrificed too much already. And if Gaea wakes, it is game over.
My Thoughts
Heart=Broken=Taped Together
I'm not going to lie, I was a little disappointed with the ending. However, simultaneously, I did like some aspects of it. For one, I started bawling when Nico confronted Percy and Annabeth. And another, I wish Leo's and Calypso's happy ending wasn't open to interpretation. Because now I have so many unanswered questions that need answers. Overall, I really enjoyed the story. Let's keep in mind, this series is targeted for middle-grades so the action, conflict, and resolution are only going to be as long as their attention spans. It is quite a quick and easy read. I am going to miss the groups adventures. However, Rick does hint towards Piper and Reyna eventually meeting again. I also caught the story starter of Magus Chase, so we haven't seen the last of Annabeth and possibly Percy. I was incredibly disappointed to discover that Percy did not have a single chapter dedicated to his sassy, sarcastic self. The series, in all, was great. I just wish the books weren't quite as long. I am pleased, yet upset that it has finally come to an end. Rick took us on a rollercoaster with these characters. It's going to be a long time before I forget any of them.