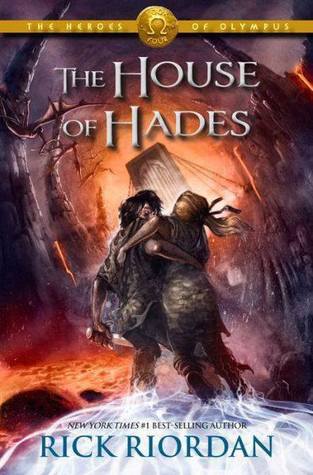 The House of Hades (The Heroes of Olympus #4)
Published by Disney-Hyperion on October 8th, 2013
Genre: Middle Grades Fantasy
Pages: 597
Format: Hardcover
Rating:
★
★
★
★
★
At the conclusion of The Mark of Athena, Annabeth and Percy tumble into a pit leading straight to the Underworld. The other five demigods have to put aside their grief and follow Percy's instructions to find the mortal side of the Doors of Death. If they can fight their way through the Gaea's forces, and Percy and Annabeth can survive the House of Hades, then the Seven will be able to seal the Doors both sides and prevent the giants from raising Gaea. But, Leo wonders, if the Doors are sealed, how will Percy and Annabeth be able to escape? They have no choice. If the demigods don't succeed, Gaea's armies will never die. They have no time. In about a month, the Romans will march on Camp Half-Blood. The stakes are higher than ever in this adventure that dives into the depths of Tartarus.
My Thoughts
Just give me a moment to collect my thoughts after that emotional rollercoaster.
I am thoroughly pleased with the amount of character development that takes place throughout this book. I kind of feel like the whole point of separating Percy and Annabeth from the rest of the group was to give the audience more information about the least beloved characters. A few of the characters find themselves in tight situations, in which makes you feel hopeless and everything is going to go awry in a heartbeat. However, with each character, we see the differences in their thought processes, priorities, and their best interests.
This book was definitely a learning experience for each of the characters. Not only did they have to push aside the Greek vs. Roman sides of things. But they also had to look for a different angle when solving problems. For the most part, every situation or conflict conveniently involved the correct demigods in order to figure out a new solution. In this book, the characters are faced with situations that are much suited for their friends but they must face the problem alone.
I greatly enjoyed this book. I am a little weary of reading The Blood of Olympus because final books in a series always feel so somber. I'm not sure if I'd be able to climb out of the book hanger. But alas, I need to know how it ends!
Re-Read Challenge
When I First Read: Immediately after the book was released.
What I Remember: The dedication. Leo and Calypso. Kelli. Bob the Titian. Tyson and Ella. Nico had a crush on Percy. Percy and Annabeth turn into mist. Coach Hedge and Mellie got married and are expecting.
Why I Wanted to Re-Read: To be up to date when I go to read The Blood of Olympus.
How I Felt After Re-Reading: Satisfied.
Would I Re-Read Again? Yes.