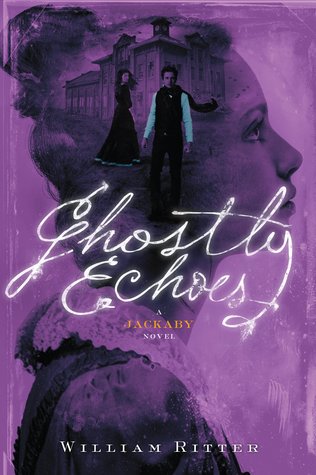 Ghostly Echoes (Jackaby #3)
Published by Algonquin Young Readers on August 23rd, 2016
Genre: Young Adult Historical Fiction
Pages: 341
Format: Hardback
Rating:
★
★
★
★
★
Jenny Cavanaugh, the ghostly lady of 926 Augur Lane, has enlisted the investigative services of her fellow residents to solve a decade-old murder—her own. Abigail Rook and her eccentric employer, Detective R. F. Jackaby, dive into the cold case, starting with a search for Jenny's fiancé, who went missing the night she died. But when a new, gruesome murder closely mirrors the events of ten years prior, Abigail and Jackaby realize that Jenny's case isn't so cold after all, and her killer may be far more dangerous than they suspected.
Fantasy and folklore mix with mad science as Abigail's race to unravel the mystery leads her across the cold cobblestones of nineteenth-century New England, down to the mythical underworld, and deep into her colleagues' grim histories to battle the most deadly foe she has ever faced.
My Thoughts
"It is not for doctors to tell us who we are."
I devoured this book. Ghostly Echoes is my favorite book in the Jackaby series so far!
Just like in Beastly Bones, Ghostly Echoes picks up where the story left off. When I read a series, I want to experience everything. Some series conclude one book and continue the next a few months or so in the future. Having the preceding books pick up shortly after is one of the most appealing things that I find in books. If I'm going to sit through a series, especially one that I am really passionate about, I don't want to miss a single page of the character's adventure. Ritter's books are exactly what I'm looking for in a series.
There was never a dull moment in Ghostly Echoes. My mind was constantly trying to reach ahead, suspecting one character after another. I was one hundred pages in when I realized that so much had already happened and I wasn't even halfway through.
I love the mix in mythology and unique explanation of each simply existing all at once. The analogies and fables not only were eye opening but creative. I especially like the story of the three blind men and an elephant. The answer was simple but it has stuck with me ever since.
I cannot wait to read what happens next in the Dire King. Judging from the ending in Ghostly Echoes, it will be far from boring or disappointing.