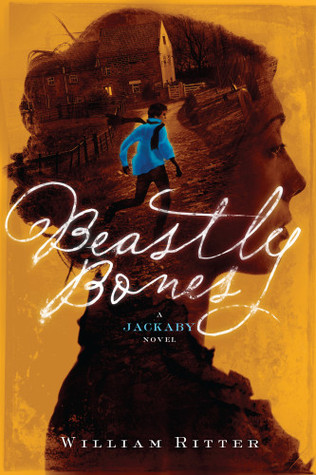 Beastly Bones (Jackaby #2)
Published by Algonquin Young Readers on September 22nd, 2015
Genre: Young Adult Historical Fiction
Pages: 296
Format: Hardback
Rating:
★
★
★
★
★
I've found very little about private detective R. F. Jackaby to be standard in the time I've known him. Working as his assistant tends to call for a somewhat flexible relationship with reality . . .
In 1892, New Fiddleham, New England, things are never quite what they seem, especially when Abigail Rook and her eccentric employer, R. F. Jackaby, are called upon to investigate the supernatural. First, members of a particularly vicious species of shape-shifters disguise themselves as a litter of kittens. A day later, their owner is found murdered, with a single mysterious puncture wound to her neck. Then, in nearby Gad's Valley, dinosaur bones from a recent dig go missing, and an unidentifiable beast attacks animals and people, leaving their mangled bodies behind. Policeman Charlie Cane, exiled from New Fiddleham to the valley, calls on Abigail for help, and soon Abigail and Jackaby are on the hunt for a thief, a monster, and a murderer.
My Thoughts
"We'll find out clues with good old-fashioned, normal detective work."

"Ugh." Jackaby tossed his head back. "That sounds awful."
Why did I wait so long to read this! I forgot how much I had loved Jackaby!
Beastly Bones takes place almost exactly where Jackaby left off. Abigail and Jackaby are requested to investigate a woman and her cat. However, things are far from what they seem when Jackaby is around. With Charlie Cane assuming his new identity in Gad's Valley, strange cats with scales are soon the least of their problems.
After experiencing Jackaby, I wasn't exactly sure who to trust in the beginning. It is always the one you would expect the least. And then it also glaringly obvious, only if you are able to pick up the signs. I will say, that the perpetrator behind the debacle wasn't nearly as shocking or surprising as it was in Jackaby. But nevertheless, it was still a fantastic read.
The humor only gets better as the story progresses and as relationships blossom. Honestly, I could not keep a straight face while reading this book. I absolutely love the quirking and unique relationship between Jackaby and Abigale.
There isn't much more I can say, only that I would rather be diving into Ghostly Echoes than writing this review.