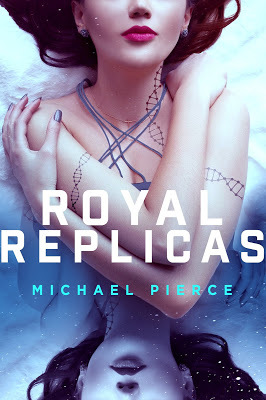 Royal Replicas
Published by ParousiaSix Press on July 11th, 2017
Genre: Young Adult Fantasy
Pages: 420
Format: ePub
Rating:
★
★
★
"Princess Amelia is dead... and one of you will replace her."
Seventeen-year-old Victoria Sandalwood has served the Duke and Duchess all her life. Over the years, she's learned to make due with what she has and endure her surrogate father's awful punishments. She dreams of escape, but never expected it to come in the form of a message from the Queen of Westeria.
Victoria learns that she's the Queen's daughter, the younger sister to Princess Amelia, and it's time to come home and claim her birthright. When she arrives, she discovers she's not the only one who received the royal message.
Victoria must compete with six other girls to earn the affection of both the Queen and a princely suitor… and to replace the secretly deceased Princess Amelia. If she fails to win the crown, Victoria may just have to fight for her life…
Royal Replicas is the first book in a YA dystopian series. If you enjoy courtly intrigue, heart-pounding adventure, and sweet romance, then you'll love this captivating story. Perfect for fans of Kiera Cass, Bella Forrest, and Veronica Roth.
About the Author
Michael Pierce is the author of the young adult contemporary fantasy Lorne Family Vault series. He writes fast-paced, character-driven books filled with adventure, mystery, thrills, and a pinch humor and romance to spice things up. The thread that ties all of his books together is the possibility of belief: what you believe becomes your reality.
Michael currently lives in Southern California with his wife, daughter, and two blood-thirsty chiweenies. When he's not at the computer, he enjoys spending quality time with family, practicing yoga, playing guitar behind closed doors, and listening to as many audiobooks as possible.


My Thoughts
Warning: Some graphic content!
I received Royal Replicas for free in exchange for an honest review. This in no way, shape, or form affects my opinions of the book or my review.
Royal Replicas follows Victoria Sandalwood, a servant to the Duke and Duchess of the 24th Ward, as she embarks on her newest journey. Discovering she is the daughter of the Queen of Westeria and spinning image of Princess Amelia, Victoria must fight for her birthright. But Victoria isn't alone. Competing with six other carbon copies of the princess, Victoria's life just got a little bit more complicated.
The setting of the story initially was what drew me in. A futuristic fairytale based in the year 2064 seems outlandish, but anything is possible in books. Despite the futuristic element of the story, there are many instances where you feel as if you're back in the middle ages.
Pierce's writing seems to take you back in time, yet the story is actually set in the future.
I'm not the biggest fan of love triangles; however, I must admit, I was torn between Kale and Prince Byrone. At first, it was Prince Byrone because Kale had a mysterious aura about him. But now, I'm still not so sure.
A story of self-discovery, Royal Replicas does not disappoint. For fans of fantasy, romance, and mystery, Royal Replicas is sure to please.