Hosted by the lovelies over at
The Broke and the Bookish
! I love their amazing ideas and seeing how many people participate each week!
Today's Top Ten Five is:
"In a world where layers of magic create worlds on top of our own, a girl desperately hunts an elixir for death. Through the hallowed halls—and criminal underworld—of the magic world's most elite institution, time and glittering evil stalk her steps.
Animated creations, enchanted gadgets, and marvelous machines vie with the students themselves: mischievous engineers, diabolical tacticians, battle-hardened warriors, and terrifying roommates. But even amidst an eclectic and powerful student body, there is something off about Ren's magic...and the wrong people have started to notice.
Where art comes alive and the bonds of destiny are forged, Ren will find the answer to who and what she is.
A secret inside a secret world.
The series:
The Ren Crown series is a New Adult and College Fantasy series that deals with art magic, magical science, and technology. The Awakening of Ren Crown is the start of an epic adventure featuring a protagonist who would rather be diligently working in her lab than saving (or ending) the world -- but who will do anything to protect her family and friends."
"The Earth is dying.
Darrow is a Red, a miner in the interior of Mars. His mission is to extract enough precious elements to one day tame the surface of the planet and allow humans to live on it.
The Reds are humanity's last hope.
Or so it appears, until the day Darrow discovers it's all a lie.
That Mars has been habitable - and inhabited - for generations, by a class of people calling themselves the Golds.
A class of people who look down on Darrow and his fellows as slave labour, to be exploited and worked to death without a second thought. Until the day that Darrow, with the help of a mysterious group of rebels, disguises himself as a Gold and infiltrates their command school, intent on taking down his oppressors from the inside.
But the command school is a battlefield - and Darrow isn't the only student with an agenda.
Break the chains.
Live for more."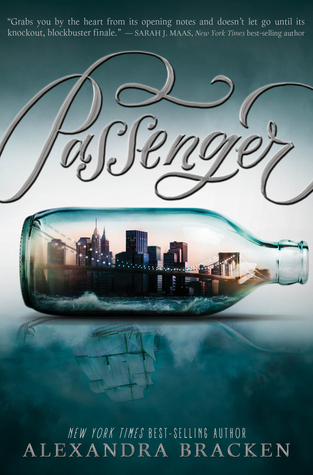 "Passage, n.
i. A brief section of music composed of a series of notes and flourishes.
ii. A journey by water; a voyage.
iii. The transition from one place to another, across space and time.
In one devastating night, violin prodigy Etta Spencer loses everything she knows and loves. Thrust into an unfamiliar world by a stranger with a dangerous agenda, Etta is certain of only one thing: she has traveled not just miles but years from home. And she's inherited a legacy she knows nothing about from a family whose existence she's never heard of. Until now.
Nicholas Carter is content with his life at sea, free from the Ironwoods—a powerful family in the colonies—and the servitude he's known at their hands. But with the arrival of an unusual passenger on his ship comes the insistent pull of the past that he can't escape and the family that won't let him go so easily. Now the Ironwoods are searching for a stolen object of untold value, one they believe only Etta, Nicholas' passenger, can find. In order to protect her, he must ensure she brings it back to them—whether she wants to or not.
Together, Etta and Nicholas embark on a perilous journey across centuries and continents, piecing together clues left behind by the traveler who will do anything to keep the object out of the Ironwoods' grasp. But as they get closer to the truth of their search, and the deadly game the Ironwoods are playing, treacherous forces threaten to separate Etta not only from Nicholas but from her path home... forever."
"She's more gunpowder than girl—and the fate of the desert lies in her hands.
Mortals rule the desert nation of Miraji, but mystical beasts still roam the wild and barren wastes, and rumor has it that somewhere, djinni still practice their magic. But there's nothing mystical or magical about Dustwalk, the dead-end town that Amani can't wait to escape from.
Destined to wind up "wed or dead," Amani's counting on her sharpshooting skills to get her out of Dustwalk. When she meets Jin, a mysterious and devastatingly handsome foreigner, in a shooting contest, she figures he's the perfect escape route. But in all her years spent dreaming of leaving home, she never imagined she'd gallop away on a mythical horse, fleeing the murderous Sultan's army, with a fugitive who's wanted for treason. And she'd never have predicted she'd fall in love with him... or that he'd help her unlock the powerful truth of who she really is."
"A revenge that will consume her. A love that will ruin her.
Emelina Flores has nothing. Her home in Ruina has been ravaged by war. She lacks the powers of her fellow Ruined. Worst of all, she witnessed her parents' brutal murders and watched helplessly as her sister, Olivia, was kidnapped.
But because Em has nothing, she has nothing to lose. Driven by a blind desire for revenge, Em sets off on a dangerous journey to the enemy kingdom of Lera. Somewhere within Lera's borders, Em hopes to find Olivia. But in order to find her, Em must infiltrate the royal family.
In a brilliant, elaborate plan of deception and murder, Em marries Prince Casimir, next in line to take Lera's throne. If anyone in Lera discovers Em is not Casimir's true betrothed, Em will be executed on the spot. But it's the only way to salvage Em's kingdom and what is left of her family.
Em is determined to succeed, but the closer she gets to the prince, the more she questions her mission. Em's rage-filled heart begins to soften. But with her life—and her family—on the line, love could be Em's deadliest mistake."
What books made your Top Ten
?