Hosted by the lovelies over at
The Broke and the Bookish
! I love their amazing ideas and seeing how many people participate each week!
Today's Top Ten Four is:
"Save Haley. Find Peregrine. Kill Feodor.
Joshlyn Weaver has a list, and she's going to check off every item or die trying. She needs to save Haley from the Death universe, hunt down her scheming grandfather, and force Feodor to return the souls he stole. Will would help her—if she'd let him. But since healing the broken bonds between them isn't on her list, he'll have to prepare to meet Peregrine on his own, and his investigation leads him to the dream-walker community's strangest corners. When the Veil separating the Dream from the World begins breaking down, Josh and Will have to come together to stop Peregrine from destroying the balance between the three universes—and they'll need Feodor's help, which always comes with a price. With the three universes collapsing into one another, Josh must decide who she is and who she can trust in time to save the World, herself, and everyone she loves."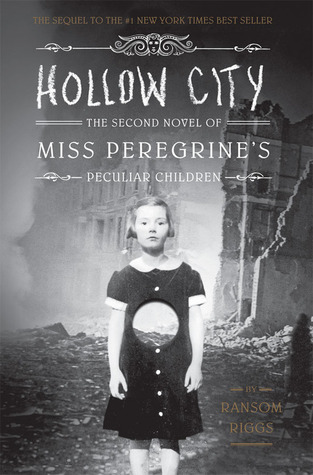 "Miss Peregrine's Home for Peculiar Children was the surprise best seller of 2011—an unprecedented mix of YA fantasy and vintage photography that enthralled readers and critics alike. Publishers Weekly called it "an enjoyable, eccentric read, distinguished by well-developed characters, a believable Welsh setting, and some very creepy monsters."
This second novel begins in 1940, immediately after the first book ended. Having escaped Miss Peregrine's island by the skin of their teeth, Jacob and his new friends must journey to London, the peculiar capital of the world. Along the way, they encounter new allies, a menagerie of peculiar animals, and other unexpected surprises.
Complete with dozens of newly discovered (and thoroughly mesmerizing) vintage photographs, this new adventure will delight readers of all ages."
"Cas Lowood has inherited an unusual vocation: He kills the dead.
So did his father before him, until he was gruesomely murdered by a ghost he sought to kill. Now, armed with his father's mysterious and deadly athame, Cas travels the country with his kitchen-witch mother and their spirit-sniffing cat. They follow legends and local lore, destroy the murderous dead, and keep pesky things like the future and friends at bay.
Searching for a ghost the locals call Anna Dressed in Blood, Cas expects the usual: track, hunt, kill. What he finds instead is a girl entangled in curses and rage, a ghost like he's never faced before. She still wears the dress she wore on the day of her brutal murder in 1958: once white, now stained red and dripping with blood. Since her death, Anna has killed any and every person who has dared to step into the deserted Victorian she used to call home.
Yet she spares Cas's life."
"Moving to a space station at the edge of the galaxy was always going to be the death of Hanna's social life. Nobody said it might actually get her killed.
The sci-fi saga that began with the breakout bestseller Illuminae continues on board the Jump Station Heimdall, where two new characters will confront the next wave of the BeiTech assault.
Hanna is the station captain's pampered daughter; Nik the reluctant member of a notorious crime family. But while the pair are struggling with the realities of life aboard the galaxy's most boring space station, little do they know that Kady Grant and the Hypatia are headed right toward Heimdall, carrying news of the Kerenza invasion.
When an elite BeiTech strike team invades the station, Hanna and Nik are thrown together to defend their home. But alien predators are picking off the station residents one by one, and a malfunction in the station's wormhole means the space-time continuum might be ripped in two before dinner. Soon Hanna and Nik aren't just fighting for their own survival; the fate of everyone on the Hypatia—and possibly the known universe—is in their hands.
But relax. They've totally got this. They hope.
Once again told through a compelling dossier of emails, IMs, classified files, transcripts, and schematics, Gemina raises the stakes of the Illuminae Files, hurling readers into an enthralling new story that will leave them breathless."
What books made your Top Ten
?