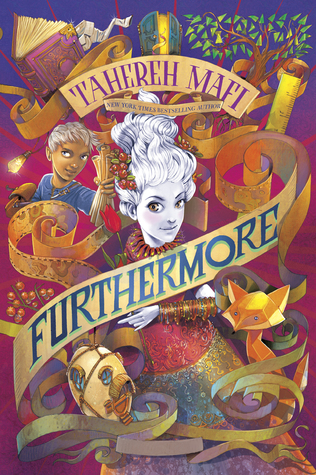 Furthermore
Published by Dutton Books for Young Readers on August 30th, 2016
Genre: Middle-Grade Fantasy
Pages: 416
Format: ARC
Rating:
★
★
A captivating and colorful adventure that reads like a modern day fairy tale, from the bestselling author of the Shatter Me series.
Inspired by her childhood love of books like The Secret Garden and The Chronicles of Narnia, bestselling author Tahereh Mafi crafts a spellbinding new world where color is currency, adventure is inevitable, and friendship is found in the most unexpected places.
There are only three things that matter to twelve-year-old Alice Alexis Queensmeadow: Mother, who wouldn't miss her; magic and color, which seem to elude her; and Father, who always loved her. The day Father disappears from Ferenwood he takes nothing but a ruler with him. But it's been almost three years since then, and Alice is determined to find him. She loves her father even more than she loves adventure, and she's about to embark on one to find the other.
But bringing Father home is no small matter. In order to find him she'll have to travel through the mythical, dangerous land of Furthermore, where down can be up, paper is alive, and left can be both right and very, very wrong. It will take all of Alice's wits (and every limb she's got) to find Father and return home to Ferenwood in one piece. On her quest to find Father, Alice must first find herself—and hold fast to the magic of love in the face of loss.
My Thoughts
One girl. One quest. To find her father in a strange and colorful world.
I know this book is meant for middle graders, but judging how accomplished Mafi is with her Shatter Me series, I guess I was expecting better. As one of my highly anticipated reads of 2016, I could've to wait to dive in. I was secretly hoping that it wouldn't be as juvenal as it turned out to be. However, it was definitely for a younger audience than myself.
The beginning started slow, even when it lead further and further to the middle. And to be quite honest, it dragged even more from there on out.
The world building was accessional. It wasn't good. But it wasn't bad. I felt it could've been explained in a better way. The world was defiantly unique and new. The entire story was creative and whimsical.
Overall, the writing was a tad too young for me. I specifically disliked the parentheses noting that the narrator would touch on a subject at a later time. Or for instance, tells the reader what Alice gets the very next day.
I wasn't overly impressed with this book. Though it did have its moment; however, this book just wasn't my cup of tea.
This is the first book that I have read written by Mafi. I most certainly hope that it is not a clear representation of the rest of her bestselling books.