Hosted by the lovelies over at
The Broke and the Bookish
! I love their amazing ideas and seeing how many people participate each week!
Today's Top Ten is:
"
"Miss Rook, I am not an occultist," Jackaby said. "I have a gift that allows me to see truth where others see the illusion--and there are many illusions. All the world's a stage, as they say, and I seem to have the only seat in the house with a view behind the curtain."
Newly arrived in New Fiddleham, New England, 1892, and in need of a job, Abigail Rook meets R. F. Jackaby, an investigator of the unexplained with a keen eye for the extraordinary--including the ability to see supernatural beings. Abigail has a gift for noticing ordinary but important details, which makes her perfect for the position of Jackaby's assistant. On her first day, Abigail finds herself in the midst of a thrilling case: A serial killer is on the loose. The police are convinced it's an ordinary villain, but Jackaby is certain it's a nonhuman creature, whose existence the police--with the exception of a handsome young detective named Charlie Cane--deny.
Doctor Who meets Sherlock in William Ritter's debut novel, which features a detective of the paranormal as seen through the eyes of his adventurous and intelligent assistant in a tale brimming with cheeky humor and a dose of the macabre."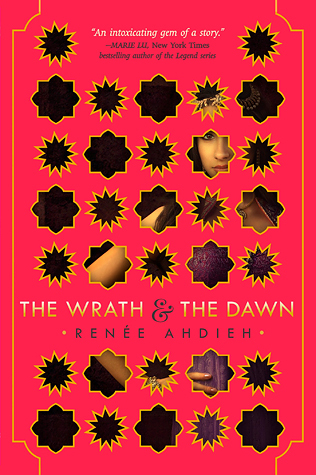 "One Life to One Dawn.
In a land ruled by a murderous boy-king, each dawn brings heartache to a new family. Khalid, the eighteen-year-old Caliph of Khorasan, is a monster. Each night he takes a new bride only to have a silk cord wrapped around her throat come morning. When sixteen-year-old Shahrzad's dearest friend falls victim to Khalid, Shahrzad vows vengeance and volunteers to be his next bride. Shahrzad is determined not only to stay alive, but to end the caliph's reign of terror once and for all.
Night after night, Shahrzad beguiles Khalid, weaving stories that enchant, ensuring her survival, though she knows each dawn could be her last. But something she never expected begins to happen: Khalid is nothing like what she'd imagined him to be. This monster is a boy with a tormented heart. Incredibly, Shahrzad finds herself falling in love. How is this possible? It's an unforgivable betrayal. Still, Shahrzad has come to understand all is not as it seems in this palace of marble and stone. She resolves to uncover whatever secrets lurk and, despite her love, be ready to take Khalid's life as retribution for the many lives he's stolen. Can their love survive this world of stories and secrets?
Inspired by A Thousand and One Nights, The Wrath and the Dawn is a sumptuous and enthralling read from beginning to end."
"
"What if Peter Pan was a homeless kid just trying to survive, and Wendy flew away for a really good reason?"
Seventeen-year-old Kettle has had his share of adversity. As an orphaned Japanese American struggling to make a life in the aftermath of an event in history not often referred to the internment of Japanese Americans during World War II and the removal of children from orphanages for having "one drop of Japanese blood in them" things are finally looking up. He has his hideout in an abandoned subway tunnel, a job, and his gang of Lost Boys.
Desperate to run away, the world outside her oppressive brownstone calls to naive, eighteen-year-old Nora the privileged daughter of a controlling and violent civil rights lawyer who is building a compensation case for the interned Japanese Americans. But she is trapped, enduring abuse to protect her younger sister Frankie and wishing on the stars every night for things to change.
For months, they've lived side by side, their paths crossing yet never meeting. But when Nora is nearly killed and her sister taken away, their worlds collide as Kettle, grief stricken at the loss of a friend, angrily pulls Nora from her window.
In her honeyed eyes, Kettle sees sadness and suffering. In his, Nora sees the chance to take to the window and fly away.
Set in 1953, Nora & Kettle explores the collision of two teenagers facing extraordinary hardship. Their meeting is inevitable, devastating, and ultimately healing. Their stories, "a collection of events, are each on their own harmless. But together, one after the other, they change the world."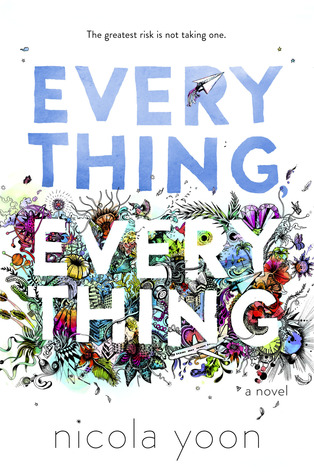 "My disease is as rare as it is famous. Basically, I'm allergic to the world. I don't leave my house, have not left my house in seventeen years. The only people I ever see are my mom and my nurse, Carla.
But then one day, a moving truck arrives next door. I look out my window, and I see him. He's tall, lean and wearing all black—black T-shirt, black jeans, black sneakers, and a black knit cap that covers his hair completely. He catches me looking and stares at me. I stare right back. His name is Olly.
Maybe we can't predict the future, but we can predict some things. For example, I am certainly going to fall in love with Olly. It's almost certainly going to be a disaster."
"She is the most powerful Jinni of all. He is a boy from the streets. Their love will shake the world...
When Aladdin discovers Zahra's jinni lamp, Zahra is thrust back into a world she hasn't seen in hundreds of years—a world where magic is forbidden and Zahra's very existence is illegal. She must disguise herself to stay alive, using ancient shape-shifting magic, until her new master has selected his three wishes.
But when the King of the Jinn offers Zahra a chance to be free of her lamp forever, she seizes the opportunity—only to discover she is falling in love with Aladdin. When saving herself means betraying him, Zahra must decide once and for all: is winning her freedom worth losing her heart?
As time unravels and her enemies close in, Zahra finds herself suspended between danger and desire in this dazzling retelling of Aladdin from acclaimed author Jessica Khoury."
"The day the rains came was like any other, blistering air coating the canyon in a heavy stillness....
Just as the rains come after ten long, dry years, a young wizard, Wayland North, appears, to whisk Sydelle Mirabil away from her desert village. North needs an assistant, and Sydelle is eager to see the country - and to join him on his quest to stop the war that surely will destroy her home. But North has secrets - about himself, about why he chose Sydelle, about his real reasons for the journey. What does he want from her? And why does North's sworn enemy seem fascinated by Sydelle himself?
Through a journey that spans a country, magic and hard-won romance are woven together with precision and brilliant design by a first-time novelist."
"Paraffin, Vermont, is known the world over as home to the Grosholtz Candle Factory. But behind the sunny retail space bursting with overwhelming scents and homemade fudge, seventeen-year-old Poppy Palladino discovers something dark and unsettling: a back room filled with dozens of startlingly life-like wax sculptures, crafted by one very strange old lady. Poppy hightails it home, only to be shocked when one of the figures—a teenage boy who doesn't seem to know what he is—jumps naked and screaming out of the trunk of her car. She tries to return him to the candle factory, but before she can, a fire destroys the mysterious workshop—and the old woman is nowhere to be seen.
With the help of the wax boy, who answers to the name Dud, Poppy resolves to find out who was behind the fire. But in the course of her investigation, she discovers that things in Paraffin aren't always as they seem, that the Grosholtz Candle Factory isn't as pure as its reputation—and that some of the townspeople she's known her entire life may not be as human as they once were. In fact, they're starting to look a little . . . waxy. Can Poppy and Dud extinguish the evil that's taking hold of their town before it's too late? "
"

Joshlyn Weaver has always lived with a big secret. Ordinary kids spend their free time going to the movies, hanging out with friends, and searching on the internet.




But for her, an evening at home usually means entering people's dreams. For many generations, her family has been part of a very powerful and very secretive society of dream walkers. Tasked with the responsibility of lowering the world's general anxiety — which only leads to war and strife in the waking world — their job has always been to stop nightmares before they go too far.

By stopping nightmares while sleeping, they help to stop nightmares in real life.




But when an ancient feud within the dream walker society resurfaces right when a seemingly unconnected series of very strange and very scary events start occurring during her dream walks, Josh finds herself in a race against time. The one true dream walker has never been known. Could she be the one?

"




"

Dragons exist. They're ferocious. And they're smart: Before they were killed off by slayer-knights, they rendered a select group of eggs dormant, so their offspring would survive. Only a handful of people know about this, let alone believe it – these "Slayers" are descended from the original knights, and are now a diverse group of teens that includes Tori, a smart but spoiled senator's daughter who didn't sign up to save the world.




The dragon eggs have fallen into the wrong hands. The Slayers must work together to stop the eggs from hatching. They will fight; they will fall in love. But will they survive?"


"

In 1818 Geneva, men built with clockwork parts live hidden away from society, cared for only by illegal mechanics called Shadow Boys. Two years ago, Shadow Boy Alasdair Finch's life shattered to bits.




His brother, Oliver—dead.




His sweetheart, Mary—gone.




His chance to break free of Geneva—lost.




Heart-broken and desperate, Alasdair does the unthinkable: He brings Oliver back from the dead.




But putting back together a broken life is more difficult than mending bones and adding clockwork pieces. Oliver returns more monster than man, and Alasdair's horror further damages the already troubled relationship.




Then comes the publication of Frankenstein and the city intensifies its search for Shadow Boys, aiming to discover the real life doctor and his monster. Alasdair finds refuge with his idol, the brilliant Dr. Geisler, who may offer him a way to escape the dangerous present and his guilt-ridden past, but at a horrible price only Oliver can pay…

"
What books made your Top Ten

?