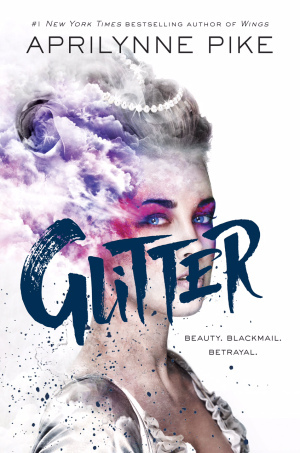 Glitter (Glitter Duology #1)
Published by Random House Books for Young Readers on October 25th, 2016
Genre: Young Adult Historical Fiction
Pages: 384
Format: Hardback
Rating:
★
From #1 New York Times bestselling author Aprilynne Pike comes a truly original new novel—Breaking Bad meets Marie Antoinette in a near-future world where the residents of Versailles live like it's the eighteenth century and an almost-queen turns to drug dealing to save her own life.
Outside the palace of Versailles, it's modern day. Inside, the people dress, eat, and act like it's the eighteenth century—with the added bonus of technology to make court life lavish, privileged, and frivolous. The palace has every indulgence, but for one pretty young thing, it's about to become a very beautiful prison.
When Danica witnesses an act of murder by the young king, her mother makes a cruel power play . . . blackmailing the king into making Dani his queen. When she turns eighteen, Dani will marry the most ruthless and dangerous man of the court. She has six months to escape her terrifying destiny. Six months to raise enough money to disappear into the real world beyond the palace gates.
Her ticket out? Glitter. A drug so powerful that a tiny pinch mixed into a pot of rouge or lip gloss can make the wearer hopelessly addicted. Addicted to a drug Dani can sell for more money than she ever dreamed.
But in Versailles, secrets are impossible to keep. And the most dangerous secret—falling for a drug dealer outside the palace walls—is one risk she has to take.
My Thoughts
What did I just read?
At first, I was intrigued. Victorian era while simultaneously modern or futuristic. Who wouldn't be curious? If only I had contained my curiosity.
This book could've been great; however, the plot and the characters were executed poorly.
The plot: Danica witnesses the murder of a young girl. The killer is no one other than the king. To protect herself and her family, Danica's mother devises a plan to ensure a bright, prosperous future. The family would remain quiet about the that night's events only if the king marries no one other than Danica.
Because after my daughter witnesses a murder, the first thing I want to do is marry her off to the murderer. Yes, the book did have a dash of originality. A group of rich citizens living the Victorian life while the rest of the world carried on without them. I still don't quite understand the purpose of that? Because the king said so? Because this story is crazy enough already?
What I don't understand is how people were admitted to the castle. Money, yes. But where does it go? From my understanding, the insiders didn't have as much as they let on. Speaking of which, if you have to pay in order to remain in the castle, then why is it so difficult for those with nothing to their name to escape? Did I miss something? If the people have no money to give the king, what is the point of keeping them around? Besides, you'd think others would grow stir crazy after a while.
The characters: In order to save herself, and only herself, Danica drugs her only friends. What kind of a friend does that? I understand her reasons to escape, but surely she could've left some people out of it. I disliked Danica so much. I found it incredibly difficult to get through this book. Her selfish attitude was anything but heroic. Sure, her life wasn't perfect nor was it acceptable. But the actions she took to get her there weren't noteworthy either.
Overall, I was disappointed. The only thing this book has going for itself is its beautiful cover and fast-paced reading. I would say it'll be over before you know it, but that would depend on your willingness to reach the end.