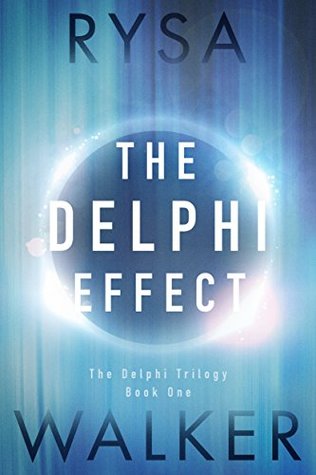 The Delphi Effect (The Delphi Trilogy #1)
Published by Skyscape on October 11th, 2016
Genre: Young Adult Science Fiction
Pages: 379
Format: eGalley
Rating:
★
★
★
It's never wise to talk to strangers…and that goes double when they're dead. Unfortunately, seventeen-year-old Anna Morgan has no choice. Resting on a park bench, touching the turnstile at the Metro station—she never knows where she'll encounter a ghost. These mental hitchhikers are the reason Anna has been tossed from one foster home and psychiatric institution to the next for most of her life.
When a chance touch leads her to pick up the insistent spirit of a girl who was brutally murdered, Anna is pulled headlong into a deadly conspiracy that extends to the highest levels of government. Facing the forces behind her new hitcher's death will challenge the barriers, both good and bad, that Anna has erected over the years and shed light on her power's origins. And when the covert organization seeking to recruit her crosses the line by kidnapping her friend, it will discover just how far Anna is willing to go to bring it down.
My Thoughts
NetGalley Review
You have no idea what you're getting yourself into when you first begin reading this book. In the beginning, I wasn't quite sure if this book would earn a high rating. That was until I finished the first chapter. I was incredibly intrigued. I needed to know more.
I loved Rysa's writing! I hadn't read any of her other works before this but am now I think I might just have to. Her words were straightforward and to the point, creating a quick pace story. I like how she somehow manages to weave subtle details into the story. A paragraph may be about Anna's past but you're so intrigued that you don't necessarily care about the delay in the story.
I found her writing to be genuine and believable. Her characters didn't feel like fictional people stumbling into each other. Their emotions and actions were what really brought the story together.
I'm always wary of love triangles. Fortunately, I don't have to add this book to the list. I liked how the emotions were there but not as sudden as most young adult books. Instead of them falling in love within the first few chapters, Rysa perfectly draws it out into a more realistic time frame.