Hosted by the lovelies over at
The Broke and the Bookish
! I love their amazing ideas and seeing how many people participate each week!
Today's Top Ten is: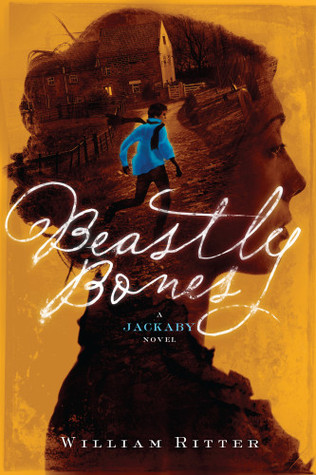 "I've found very little about private detective R. F. Jackaby to be standard in the time I've known him. Working as his assistant tends to call for a somewhat flexible relationship with reality . . .


In 1892, New Fiddleham, New England, things are never quite what they seem, especially when Abigail Rook and her eccentric employer, R. F. Jackaby, are called upon to investigate the supernatural. First, members of a particularly vicious species of shape-shifters disguise themselves as a litter of kittens. A day later, their owner is found murdered, with a single mysterious puncture wound to her neck. Then, in nearby Gad's Valley, dinosaur bones from a recent dig go missing, and an unidentifiable beast attacks animals and people, leaving their mangled bodies behind. Policeman Charlie Cane, exiled from New Fiddleham to the valley, calls on Abigail for help, and soon Abigail and Jackaby are on the hunt for a thief, a monster, and a murderer."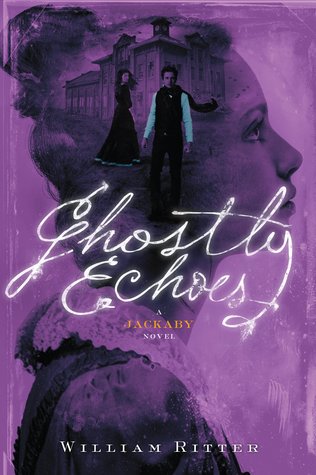 "Jenny Cavanaugh, the ghostly lady of 926 Augur Lane, has enlisted the investigative services of her fellow residents to solve a decade-old murder—her own. Abigail Rook and her eccentric employer, Detective R. F. Jackaby, dive into the cold case, starting with a search for Jenny's fiancé, who went missing the night she died. But when a new, gruesome murder closely mirrors the events of ten years prior, Abigail and Jackaby realize that Jenny's case isn't so cold after all, and her killer may be far more dangerous than they suspected.
Fantasy and folklore mix with mad science as Abigail's race to unravel the mystery leads her across the cold cobblestones of nineteenth-century New England, down to the mythical underworld, and deep into her colleagues' grim histories to battle the most deadly foe she has ever faced. "
"In a world at war, who can you trust?
The empire rests on the edge of a knife, and sisters Ashyn and Moria are the handle and the blade. Desperate to outmaneuver the evil Alvar Kitsune, whose hold on the people grows stronger every day, Emperor Tatsu begs Moria to put aside past grievances and ally with Gavril—at least long enough to make an attempt on Alvar's life. Meanwhile, reunited with her long-lost grandfather, Ashyn discovers that she is the key to a ritual that could reawaken an ancient dragon and turn the tide of the coming battle in their favor.
But with lies and betrayal lurking around every corner, Ashyn and Moria will have to decide once and for all where their allegiances are. And it may not be where their hearts would lead them…
In this breathtaking final book in her epic trilogy the Age of Legends, #1 New York Times bestselling author Kelley Armstrong blends fantasy, action, and romance to give readers the unforgettable ending they've been waiting for."
"A revenge that will consume her. A love that will ruin her.
Emelina Flores has nothing. Her home in Ruina has been ravaged by war. She lacks the powers of her fellow Ruined. Worst of all, she witnessed her parents' brutal murders and watched helplessly as her sister, Olivia, was kidnapped.
But because Em has nothing, she has nothing to lose. Driven by a blind desire for revenge, Em sets off on a dangerous journey to the enemy kingdom of Lera. Somewhere within Lera's borders, Em hopes to find Olivia. But in order to find her, Em must infiltrate the royal family.
In a brilliant, elaborate plan of deception and murder, Em marries Prince Casimir, next in line to take Lera's throne. If anyone in Lera discovers Em is not Casimir's true betrothed, Em will be executed on the spot. But it's the only way to salvage Em's kingdom and what is left of her family.
Em is determined to succeed, but the closer she gets to the prince, the more she questions her mission. Em's rage-filled heart begins to soften. But with her life—and her family—on the line, love could be Em's deadliest mistake."
"She's more gunpowder than girl—and the fate of the desert lies in her hands.
Mortals rule the desert nation of Miraji, but mystical beasts still roam the wild and barren wastes, and rumor has it that somewhere, djinni still practice their magic. But there's nothing mystical or magical about Dustwalk, the dead-end town that Amani can't wait to escape from.
Destined to wind up "wed or dead," Amani's counting on her sharpshooting skills to get her out of Dustwalk. When she meets Jin, a mysterious and devastatingly handsome foreigner, in a shooting contest, she figures he's the perfect escape route. But in all her years spent dreaming of leaving home, she never imagined she'd gallop away on a mythical horse, fleeing the murderous Sultan's army, with a fugitive who's wanted for treason. And she'd never have predicted she'd fall in love with him... or that he'd help her unlock the powerful truth of who she really is."
"Being human is her greatest strength.
Sixteen-year-old Frost understands why she's spent her entire life in an abandoned apartment building. The ruined streets below are hunting grounds for rogue robots and Eaters.
She understands why she's never met a human besides her father. She even understands why he forbids her to look for medicine for her dying pet. But the thing is, it's not her real father giving the orders…
It's his memories.
Before he died, Frost's father uploaded his consciousness into their robot servant. But the technology malfunctioned, and now her father fades in and out. So when Frost learns that there might be medicine on the other side of the ravaged city, she embarks on a dangerous journey to save the one living creature she loves.
With only a robot as a companion, Frost must face terrors of all sorts, from outrunning the vicious Eaters…to talking to the first boy she's ever set eyes on. But can a girl who's only seen the world through books and dusty windows survive on her own? Or will her first journey from home be her last?"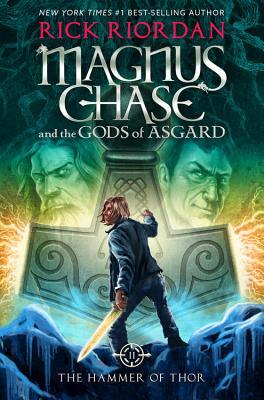 "Thor's hammer is missing again. The thunder god has a disturbing habit of misplacing his weapon--the mightiest force in the Nine Worlds. But this time the hammer isn't just lost, it has fallen into enemy hands. If Magnus Chase and his friends can't retrieve the hammer quickly, the mortal worlds will be defenseless against an onslaught of giants. Ragnarok will begin. The Nine Worlds will burn. Unfortunately, the only person who can broker a deal for the hammer's return is the gods' worst enemy, Loki--and the price he wants is very high."




What books made your Top Ten

?