Hosted by the lovelies over at
The Broke and the Bookish
! I love their amazing ideas and seeing how many people participate each week!
Today's Top Ten Seven is:
"What if Peter Pan was a homeless kid just trying to survive, and Wendy flew away for a really good reason?"
Seventeen-year-old Kettle has had his share of adversity. As an orphaned Japanese American struggling to make a life in the aftermath of an event in history not often referred to the internment of Japanese Americans during World War II and the removal of children from orphanages for having "one drop of Japanese blood in them" things are finally looking up. He has his hideout in an abandoned subway tunnel, a job, and his gang of Lost Boys.
Desperate to run away, the world outside her oppressive brownstone calls to naive, eighteen-year-old Nora the privileged daughter of a controlling and violent civil rights lawyer who is building a compensation case for the interned Japanese Americans. But she is trapped, enduring abuse to protect her younger sister Frankie and wishing on the stars every night for things to change.
For months, they've lived side by side, their paths crossing yet never meeting. But when Nora is nearly killed and her sister taken away, their worlds collide as Kettle, grief stricken at the loss of a friend, angrily pulls Nora from her window.
In her honeyed eyes, Kettle sees sadness and suffering. In his, Nora sees the chance to take to the window and fly away.
Set in 1953, Nora & Kettle explores the collision of two teenagers facing extraordinary hardship. Their meeting is inevitable, devastating, and ultimately healing. Their stories, "a collection of events, are each on their own harmless. But together, one after the other, they change the world."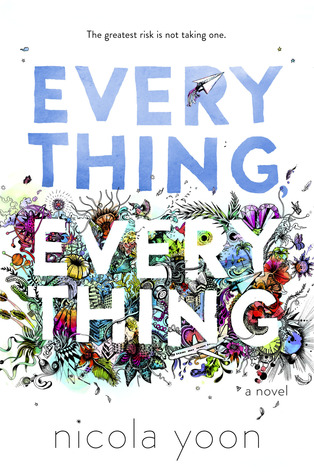 "My disease is as rare as it is famous. Basically, I'm allergic to the world. I don't leave my house, have not left my house in seventeen years. The only people I ever see are my mom and my nurse, Carla.
But then one day, a moving truck arrives next door. I look out my window, and I see him. He's tall, lean and wearing all black—black T-shirt, black jeans, black sneakers, and a black knit cap that covers his hair completely. He catches me looking and stares at me. I stare right back. His name is Olly.
Maybe we can't predict the future, but we can predict some things. For example, I am certainly going to fall in love with Olly. It's almost certainly going to be a disaster."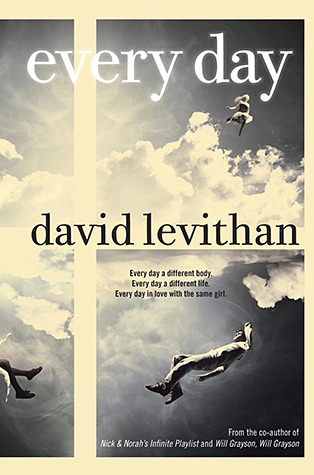 "Every day a different body. Every day a different life. Every day in love with the same girl.
There's never any warning about where it will be or who it will be. A has made peace with that, even established guidelines by which to live: Never get too attached. Avoid being noticed. Do not interfere.
It's all fine until the morning that A wakes up in the body of Justin and meets Justin's girlfriend, Rhiannon. From that moment, the rules by which A has been living no longer apply. Because finally A has found someone he wants to be with—day in, day out, day after day."
"They all thought he was gone. But he was alive and trapped inside his own body for ten years.
In January 1988 Martin Pistorius, aged twelve, fell inexplicably sick. First he lost his voice and stopped eating. Then he slept constantly and shunned human contact. Doctors were mystified. Within eighteen months he was mute and wheelchair-bound. Martin's parents were told an unknown degenerative disease left him with the mind of a baby and less than two years to live.
Martin was moved to care centers for severely disabled children. The stress and heartache shook his parents marriage and their family to the core. Their boy was gone. Or so they thought.
Ghost Boy is the heart-wrenching story of one boy s return to life through the power of love and faith. In these pages, readers see a parent s resilience, the consequences of misdiagnosis, abuse at the hands of cruel caretakers, and the unthinkable duration of Martin s mental alertness betrayed by his lifeless body.
We also see a life reclaimed a business created, a new love kindled all from a wheelchair. Martin's emergence from his own darkness invites us to celebrate our own lives and fight for a better life for others."
"The true story of an all-American girl and a boy from an impoverished city in Zimbabwe and the letter that changed both of their lives forever.
It started as an assignment. Everyone in Caitlin's class wrote to an unknown student somewhere in a distant place. All the other kids picked countries like France or Germany, but when Caitlin saw Zimbabwe written on the board, it sounded like the most exotic place she had ever heard of--so she chose it.
Martin was lucky to even receive a pen pal letter. There were only ten letters, and forty kids in his class. But he was the top student, so he got the first one.
That letter was the beginning of a correspondence that spanned six years and changed two lives.
In this compelling dual memoir, Caitlin and Martin recount how they became best friends --and better people--through letters. Their story will inspire readers to look beyond their own lives and wonder about the world at large and their place in it."
"Maybe it was a grandparent, or a teacher or a colleague. Someone older, patient and wise, who understood you when you were young and searching, and gave you sound advice to help you make your way through it. For Mitch Albom, that person was Morrie Schwartz, his college professor from nearly twenty years ago.
Maybe, like Mitch, you lost track of this mentor as you made your way, and the insights faded. Wouldn't you like to see that person again, ask the bigger questions that still haunt you?
Mitch Albom had that second chance. He rediscovered Morrie in the last months of the older man's life. Knowing he was dying of ALS - or motor neurone disease - Mitch visited Morrie in his study every Tuesday, just as they used to back in college. Their rekindled relationship turned into one final 'class': lessons in how to live."
"The automa Pinocchio has always been duty-bound to serve in the floating palace of Venice's emperor. So when Pinocchio finds himself locked in a trunk and delivered to a new master - a wanted criminal and alchemist named Geppetto - he is curious about everything around him. But most curious is the way Pinocchio seems to be changing from a wooden servant into a living, human boy. Before Geppetto and Pinocchio can uncover the mystery surrounding the automa's transformation, Pinocchio is stolen away. Determined to find Geppetto again, Pinocchio begins a harrowing journey across the Empire, where danger in the form of half-beast outlaws and winged airmen abounds for a lost automa.
Meanwhile, Princess Lazuli, the daughter of the ruler of a magical kingdom called Abaton, is also on a quest through the emperor's territory. Her father, Prester John, has been captured by the Venetian Empire, and Lazuli is desperate to rescue him. With the emperor's airmen closing in fast, Lazuli learns the only hope for saving her father-and her beloved home-lies in Pinocchio and Geppetto."
What books made your Top Ten

?