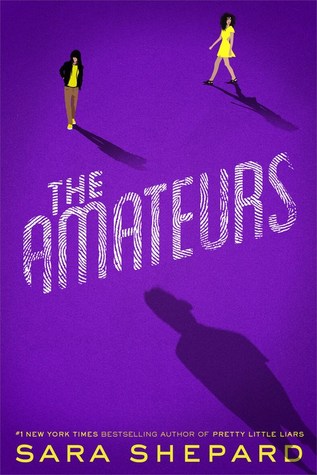 The Amateurs (The Amateurs #1)
Published by Disney-Hyperion on November 1st, 2016
Genre: Young Adult Mystery
Pages: 320
Format: ARC
Rating:
★
As soon as Seneca Frazier sees the post on the Case Not Closed website about Helena Kelly, she's hooked. Helena's high-profile disappearance five years earlier is the one that originally got Seneca addicted to true crime. It's the reason she's a member of the site in the first place. So when Maddy Wright, her best friend from the CNC site, invites Seneca to spend spring break in Connecticut looking into the cold case, she immediately packs her bag. But the moment she steps off the train in trendy, glamorous Dexby, things begin to go wrong. Maddy is nothing like she expected, and Helena's sister, Aerin Kelly, seems completely hostile and totally uninterested in helping with their murder investigation. But when Brett, another super user from the site, joins Seneca and Maddy in Dexby, Aerin starts to come around. The police must have missed something, and someone in Dexby definitely has information they've been keeping quiet. As Seneca, Brett, Maddy, and Aerin begin to unravel dark secrets and shocking betrayals about the people closest to them, they seem to be on the murderer's trail at last. But somewhere nearby the killer is watching . . . ready to do whatever it takes to make sure the truth stays buried.
My Thoughts
I'd never read anything by Sara Shepard before so I decided to give this book a shot. I found the premise to be intriguing, the same goes for her writing style. Unfortunately, after a few pages, I realized that her style did not correlate with my high expectations. After hearing about her success on her Pretty Little Liars series, I expected better. But then again, she is writing for teenagers who are just starting high school. With that in mind, Shepard's writing sounded too childish and immature. Her word selection definitely needed some help. The situations the characters find themselves in is what make this book able to be marketed towards young adults. I felt like some scenes were executed poorly and needed a better explanation.
I hate books that introduce multiple characters at once and expect the reader to know everything about them. At one point in the story, Shepard introduces a character with their first and last name before moving on. It's almost as if that character's name is supposed to mean something to us or give us a certain connotation towards it.
My biggest issue with the book was the ample amount of product placement! There isn't a single page where it doesn't mention a popular brand or song title. Not only does it date the book, but it also takes away from the story. Honestly, I don't care what kind of phone the characters use or what kind of beer they are drinking. One could say it makes the story more realistic when the characters use the same objects as we do in our daily lives. While another person might say that the details don't matter.
Overall, I wasn't too disappointed about not enjoying this book. I've never really been a fan of book that sound like they are told from an immature eight grader's point of view.