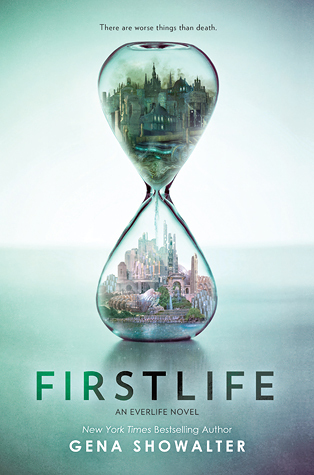 Firstlife (Everlife #1)
Published by Harlequin Teen on February 23rd, 2016
Genre: Young Adult Science Fiction
Pages: 480
Format: ARC
Rating:
★
★
ONE CHOICE. TWO REALMS. NO SECOND CHANCE. Tenley "Ten" Lockwood is an average seventeen-year-old girl…who has spent the past thirteen months locked inside the Prynne Asylum. The reason? Not her obsession with numbers, but her refusal to let her parents choose where she'll live—after she dies. There is an eternal truth most of the world has come to accept: Firstlife is merely a dress rehearsal, and real life begins after death. In the Everlife, two realms are in power: Troika and Myriad, longtime enemies and deadly rivals. Both will do anything to recruit Ten, including sending their top Laborers to lure her to their side. Soon, Ten finds herself on the run, caught in a wild tug-of-war between the two realms who will do anything to win the right to her soul. Who can she trust? And what if the realm she's drawn to isn't home to the boy she's falling for? She just has to stay alive long enough to make a decision…
My Thoughts
I definitely feel like this book is a hit or miss. And unfortunately, for me, it was most certainly a miss. I. Just. Couldn't. Deal. With. The. Love. Triangle.
I was so pumped when I first dove into the book. The premise sounded promising and seemed to guarantee an action-packed adventure. Though the story doesn't like action, it does; however, lack adequate progression. The first half of the book was solely about Ten enduring the asylum and eventually leading up to her escape. This book this quite thick. I was defiantly hoping, and ultimately praying for Tenley to escape within the first few chapters. No such luck.
Within the first few chapters, I realized that some aspects of Firstlife sounded awfully familiar to a duology that I adore.
1) We find the characters in an asylum, similar to a faculty that breaths new life into the once living.
2) There is something that makes the main characters different from all of the other inmates. In this case, one is known for counting EVERYTHING. And the other is known for their death number.
3) The main characters are cold hearted, shows little to no emotion, have serious trust issues, as well as many other afflictions. Whereas the secondary characters assigned to the main are seen as liabilities, weak, and helpless. That is until a turning point occurs and changes our thoughts about the characters completely.
Any guesses on the series?
Reboot by Amy Tintera
Overall, I think I would've enjoyed the story more if it had taken off sooner and if the love triangle has been dialed down.