Here are a few books that I am most looking forward to buying that are being released this week! There's quite a few this week.
"

Sixteen-year-old Jaxon is being committed to video game rehab . . .
ten minutes after he met a girl. A living, breathing girl named Serena, who not only laughed at his jokes but actually kinda sorta seemed excited when she agreed to go out with him.
Jaxon's first date. Ever.
In rehab, he can't blast his way through galaxies to reach her. He can't slash through armies to kiss her sweet lips. Instead, he has just four days to earn one million points by learning real-life skills. And he'll do whatever it takes—lie, cheat, steal, even learn how to cross-stitch—in order to make it to his date.
If all else fails, Jaxon will have to bare his soul to the other teens in treatment, confront his mother's absence, and maybe admit that it's more than video games that stand in the way of a real connection.
Prepare to be cured.

"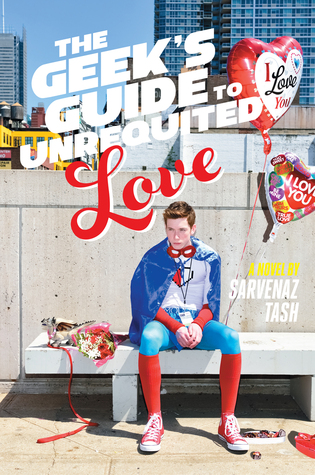 "

John Hughes meets Comic Con in this hilarious, unabashedly romantic, coming-of-age novel about a teenager who is trying to get his best friend to fall in love with him from the author of Three Day Summer.
Peter Parker and Gwen Stacy... Archie and Veronica... Althena and Noth... ...Graham and Roxy?
Graham met his best friend, Roxana, when he moved into her neighborhood eight years ago, and she asked him which Hogwarts house he'd be sorted into. Graham has been in love with her ever since.
But now they're sixteen, still neighbors, still best friends. And Graham and Roxy share more than ever—moving on from their Harry Potter obsession to a serious love of comic books.
When Graham learns that the creator of their favorite comic, The Chronicles of Althena, is making a rare appearance at this year's New York Comic Con, he knows he must score tickets. And the event inspires Graham to come up with the perfect plan to tell Roxy how he really feels about her. He's got three days to woo his best friend at the coolest, kookiest con full of superheroes and supervillains. But no one at a comic book convention is who they appear to be...even Roxy. And Graham is starting to realize fictional love stories are way less complicated than real-life ones.

"
"

In Orpheus Chanson's world, geniuses and prodigies are no longer born or honed through hard work. Instead, procedures to induce Acquired Savant Abilities (ASAs) are now purchased by the privileged. And Orpheus's father holds the copyright to the ASA procedure.
Zimri Robinson, a natural musical prodigy, is a "plebe"--a worker at the enormous warehouse that supplies an on-line marketplace that has supplanted all commerce. Her grueling schedule and her grandmother's illness can't keep her from making music--even if it is illegal.
Orpheus and Zimri are not supposed to meet. He is meant for greatness; she is not. But sometimes, rules are meant to be broken. Here is a thriller, love story, and social experiment that readers will find gripping--and terrifying."
What books are you most looking forward to reading this week?