Hosted by the lovelies over at
The Broke and the Bookish
! I love their amazing ideas and seeing how many people participate each week!
Today's Top Ten is:
"

A juicy thriller about a girl who returned from the missing. . . . Hand to fans of We Were Liars, Bone Gap, and Vanishing Girls.
Some choices change everything. Scarlett chose to run. And the consequences will be deadly.
Stolen from her family as a young girl, Scarlett was lucky enough to eventually escape her captor. Now a teen, she's starting a summer job at an amusement park. There are cute boys, new friends, and the chance to finally have a normal life.
Her first day on the job, Scarlett is shocked to discover that a girl from the park has gone missing. Old memories come rushing back. And now as she meets her new coworkers, one of the girls seems strangely familiar. When Scarlett chose to run all those years ago, what did she set into motion? And when push comes to shove, how far will she go to uncover the truth . . . before it's too late?

"
Never Missing, Never Found hits the shelves on June 28th, 2016.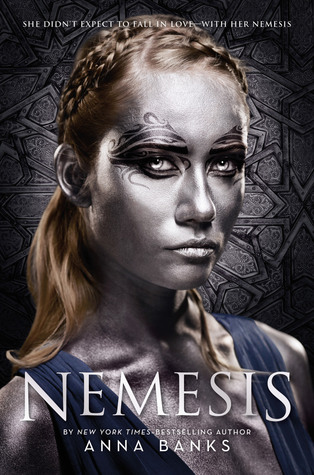 "

The princess didn't expect to fall in love--with her nemesis.
Princess Sepora of Serubel is the last Forger in all the five kingdoms. The spectorium she creates provides energy for all, but now her father has found a way to weaponize it, and his intentions to incite war force her to flee from his grasp. She escapes across enemy lines into the kingdom of Theoria, but her plans to hide are thwarted when she is captured and placed in the young king's servitude.
Tarik has just taken over rulership of Theoria, and must now face a new plague sweeping through his kingdom and killing his citizens. The last thing he needs is a troublesome servant vying for his attention. But mistress Sepora will not be ignored. When the two finally meet face-to-face, they form an unlikely bond that complicates life in ways neither of them could have imagined.
Sepora's gift could save Tarik's kingdom from the Quiet Plague. But should she trust her growing feelings for her nemesis, or should she hide her gifts at all costs?

"
Nemesis hits the shelves on October 4th, 2016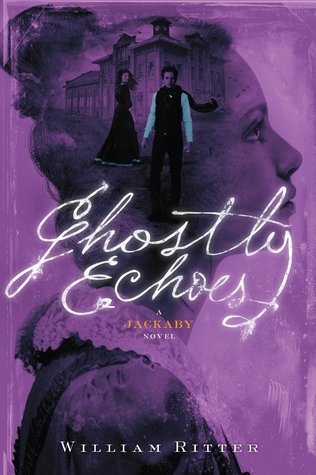 "

Jenny Cavanaugh, the ghostly lady of 926 Augur Lane, has enlisted the investigative services of her fellow residents to solve a decade-old murder—her own. Abigail Rook and her eccentric employer, Detective R. F. Jackaby, dive into the cold case, starting with a search for Jenny's fiancé, who went missing the night she died. But when a new, gruesome murder closely mirrors the events of ten years prior, Abigail and Jackaby realize that Jenny's case isn't so cold after all, and her killer may be far more dangerous than they suspected.
Fantasy and folklore mix with mad science as Abigail's race to unravel the mystery leads her across the cold cobblestones of nineteenth-century New England, down to the mythical underworld, and deep into her colleagues' grim histories to battle the most deadly foe she has ever faced.

"
Ghostly Echoes hits the shelves on August 23rd, 2016.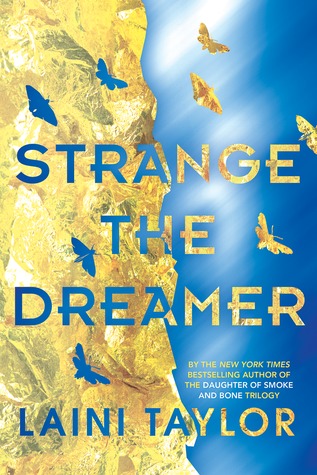 "

Strange the Dreamer is the story of:
the aftermath of a war between gods and men a mysterious city stripped of its name a mythic hero with blood on his hands a young librarian with a singular dream a girl every bit as perilous as she is imperiled alchemy and blood candy, nightmares and godspawn, moths and monsters, friendship and treachery, love and carnage.
Welcome to Weep.

"
Strange the Dreamer hits the shelves on September 27th, 2016.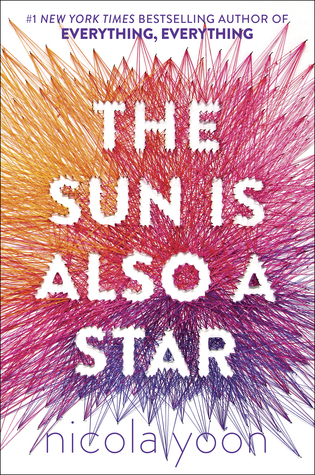 "

Natasha: I'm a girl who believes in science and facts. Not fate. Not destiny. Or dreams that will never come true. I'm definitely not the kind of girl who meets a cute boy on a crowded New York City street and falls in love with him. Not when my family is twelve hours away from being deported to Jamaica. Falling in love with him won't be my story.
Daniel: I've always been the good son, the good student, living up to my parents' high expectations. Never the poet. Or the dreamer. But when I see her, I forget about all that. Something about Natasha makes me think that fate has something much more extraordinary in store—for both of us.
The Universe: Every moment in our lives has brought us to this single moment. A million futures lie before us. Which one will come true?

"
The Sun Is Also a Star hits the shelves on November 1st, 2016.
"

Cinder meets The Walking Dead in a chilling futuristic fairy tale that will reboot everything you thought about family, love, and what it means to be human.
Sixteen-year-old Frost understands why she's spent her entire life in an abandoned apartment building. The ruined streets below are hunting grounds for rogue robots and Eaters.
She understands why she's never met a human besides her father. She even understands why he forbids her to look for medicine for her dying pet. But the thing is, it's not her real father giving the orders . . .
It's his memories.
Before he died, Frost's father uploaded his consciousness into their robot servant. But the technology malfunctioned, and now her father fades in and out. So when Frost learns that there might be medicine on the other side of the ravaged city, she embarks on a dangerous journey to save the only living creature she loves.
With only a robot as a companion, Frost must face terrors of all sorts, from outrunning the vicious Eaters . . . to talking to the first boy she's ever set eyes on. But can a girl who's only seen the world through books and dusty windows survive on her own?

"
Frost hits the shelves on October 11th, 2016.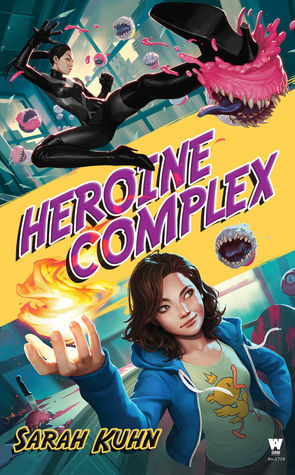 "

Being a superheroine is hard. Working for one is even harder.
Evie Tanaka is the put-upon personal assistant to Aveda Jupiter, her childhood best friend and San Francisco's most beloved superheroine. She's great at her job—blending into the background, handling her boss's epic diva tantrums, and getting demon blood out of leather pants.
Unfortunately, she's not nearly as together when it comes to running her own life, standing up for herself, or raising her tempestuous teenage sister, Bea.
But everything changes when Evie's forced to pose as her glamorous boss for one night, and her darkest comes out: she has powers, too. Now it's up to her to contend with murderous cupcakes, nosy gossip bloggers, and supernatural karaoke battles—all while juggling unexpected romance and Aveda's increasingly outrageous demands. And when a larger threat emerges, Evie must finally take charge and become a superheroine in her own right... or see her city fall to a full-on demonic invasion.

"
Heroine Complex hits the shelves on July 5th, 2016.
"

THE FACTS • Julian Roman, age sixteen, is an escapee from the Fairmount County Juvenile Detention Facility. • His parents, Michael Roman and Jennifer Roman, are dead. • Julian is wanted for murder.
THE QUESTIONS • Why is Julian Roman on the run? • Just how dangerous is he? • And who did kill Michael and Jennifer Roman, if not Julian?
Seventeen-year-old Day Baker views life through the lens of her camera, where perspective is everything. But photographs never tell the whole story. After Day crosses paths with Julian, the world she pictures and the truths she believes-neatly captured in black and white-begin to blur.
Julian is not the "armed and dangerous" escapee the police are searching for, but his alibis don't quite add up, either. There is more to his story. This time, Day is determined to see the entire picture . . . whatever it reveals. Did he? Or didn't he?
Day digs deeper into the case while Julian remains on the run. But the longer her list of facts becomes, the longer the list of questions becomes, too. It's also getting harder to deny the chemistry she feels for him. Is it real? Or is she being manipulated?
Day is close to finding the crack in the case. She just needs time to focus before the shutter snaps shut.
Laurie Faria Stolarz is a master of suspense and romance. In this page-turning thriller, Stolarz tackles dark truths with a powerful, contemporary voice. Shutter will keep readers guessing until the very end.

"
Shutter hits the shelves on October 18th, 2016.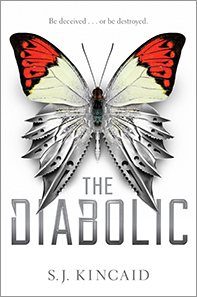 "

Red Queen meets The Hunger Games in this epic novel about what happens when the galaxy's most deadly weapon masquerades as a senator's daughter and a hostage of the galactic court.
A Diabolic is ruthless. A Diabolic is powerful. A Diabolic has a single task: Kill in order to protect the person you've been created for.
Nemesis is a Diabolic, a humanoid teenager created to protect a galactic senator's daughter, Sidonia. The two have grown up side by side, but are in no way sisters. Nemesis is expected to give her life for Sidonia, and she would do so gladly. She would also take as many lives as necessary to keep Sidonia safe.
When the power-mad Emperor learns Sidonia's father is participating in a rebellion, he summons Sidonia to the Galactic court. She is to serve as a hostage. Now, there is only one way for Nemesis to protect Sidonia. She must become her. Nemesis travels to the court disguised as Sidonia—a killing machine masquerading in a world of corrupt politicians and two-faced senators' children. It's a nest of vipers with threats on every side, but Nemesis must keep her true abilities a secret or risk everything.
As the Empire begins to fracture and rebellion looms closer, Nemesis learns there is something more to her than just deadly force. She finds a humanity truer than what she encounters from most humans. Amidst all the danger, action, and intrigue, her humanity just might be the thing that saves her life—and the empire.

"
The Diabolic hits the shelves on November 1st, 2016.
"

Damaged. Deceptive. Dangerous. Darling. Are they labels or a warning? The answer could cost Sera everything.
Murder, justice, and revenge were so not a part of the plan when Sera set out on her senior camping trip. After all, hiking through the woods is supposed to be safe and uneventful.
Then one morning the group wakes up groggy, confused, and with words scrawled on their wrists: Damaged. Deceptive. Dangerous. Darling. Their supplies? Destroyed. Half their group? Gone. Their chaperone? Unconscious. Worst of all, they find four dolls acting out a murder—dolls dressed just like them.
Suddenly it's clear; they're being hunted. And with the only positive word on her wrist, Sera falls under suspicion…

"
One Was Lost hits the shelves on October 4th, 2016.
What are your most anticipated upcoming reads?