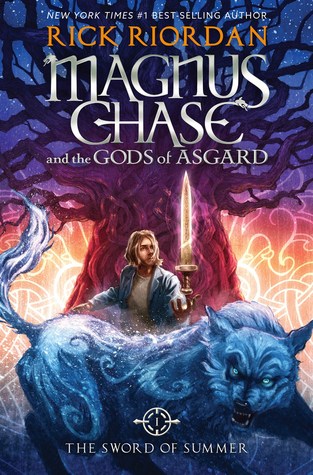 The Sword of Summer (Magnus Chase and the Gods of Asgard #1)
Published by Disney - Hyperion Books on October 6th, 2015
Genre: Middle Grades Fantasy
Pages: 499
Format: Hardback
Rating:
★
★
★
★
★
Magnus Chase has always been a troubled kid. Since his mother's mysterious death, he's lived alone on the streets of Boston, surviving by his wits, keeping one step ahead of the police and the truant officers.
One day, he's tracked down by a man he's never met—a man his mother claimed was dangerous. The man tells him an impossible secret: Magnus is the son of a Norse god.
The Viking myths are true. The gods of Asgard are preparing for war. Trolls, giants and worse monsters are stirring for doomsday. To prevent Ragnarok, Magnus must search the Nine Worlds for a weapon that has been lost for thousands of years.
When an attack by fire giants forces him to choose between his own safety and the lives of hundreds of innocents, Magnus makes a fatal decision.
Sometimes, the only way to start a new life is to die . . .
My Thoughts
Magnus Chase never imagined himself dying only to be resurrected with mythical abilities. He enjoyed his days as a homeless teenager, living it big in Boston with his fellow homeless friends Blitzen and Hearthstone. So when he gets the chance to be something more, Magnus leaps into action. Transported to one of the Nine Worlds, Magnus meets Sam, the Valkyrie who brought him to Valhalla. As the daughter of Loki, Sam has endured many prejudices against her father, preventing many from believing the truth. A sinister plot lurks in the dark corners of the Nine Worlds and within days they will be no more. Forced to go against the gods themselves, Magnus, Sam, Blitzen, and Hearthstone, set out on one of the craziest missions of their lives: Stop Ragnarok. Doomsday.
I grew up reading Percy Jackson. To see the Rick Riordan's first character make an appearance in his other pieces is always exciting. I enjoyed the subtle references and notable differences between Percy and Magnus scattered throughout this book. For example, Magnus states that he hates the color blue. But Percy Jackson fans know the significance of the color for Percy. I honestly thought that Magnus' personality would be very similar to Percy's, if not the exact same. Though sharing their creator, the writing style had some noticeable differences. The biggest one of them all was Magnus' sarcasm. It brought endless laughter, smiles, and eye rolls to the story, never leaving the reader a dull moment.
The characters were more diverse than some of Riordan's other books, which I really appreciated. I love how he continues to build on to the world of characters he has created by linking the old with the new. I just about exploded with joy when Annabeth appeared. I wasn't expecting her to appear so early in the story, which really brightened my day! The character's interactions with each other are so genuine and thoughtful, which makes it even easier to suddenly find yourself staring at the last page. Although Riordan's books are mostly directed towards middle graders, they are all superb reads for anyone!